Discover more from regs to riches
That one simple trick to make the economy work better.
Over 2,000 subscribers
#11
data license to positively stalk employees
This is a newsletter about regulatory hacking featuring (mostly) Canadian startups.
Because all start-ups need a regulatory strategy to succeed
.
spotlight: cinchy

leadership gap: home employer monitoring 👀🏠🖥️😱   
 
legislative pages: If...then - Algorithmic Power and Politics 
 
billy: AB-3116 Mobility devices: personal information   

tune: HAIM - I Know Alone
I had seen "Cinchy" online but didn't fully appreciate what the Canadian company does in terms of data management. 🇨🇦
In broader discussions around data ownership and portability, I was forgetting that large institutions have *thousands* of internal systems and applications, and each system has a different database, which means that your bank may have thousands of copies of your sensitive data (I always conceptualized "my" data as a static set). Right to be forgotten? Just click delete! (It's not that easy).
Cinchy puts itself in a new category: a data fabric, or a "power grid for data." It runs on-prem or via private cloud, so Cinchy never gets access to the data. Their moonshot motivation is a seductive one: to give people control over their data.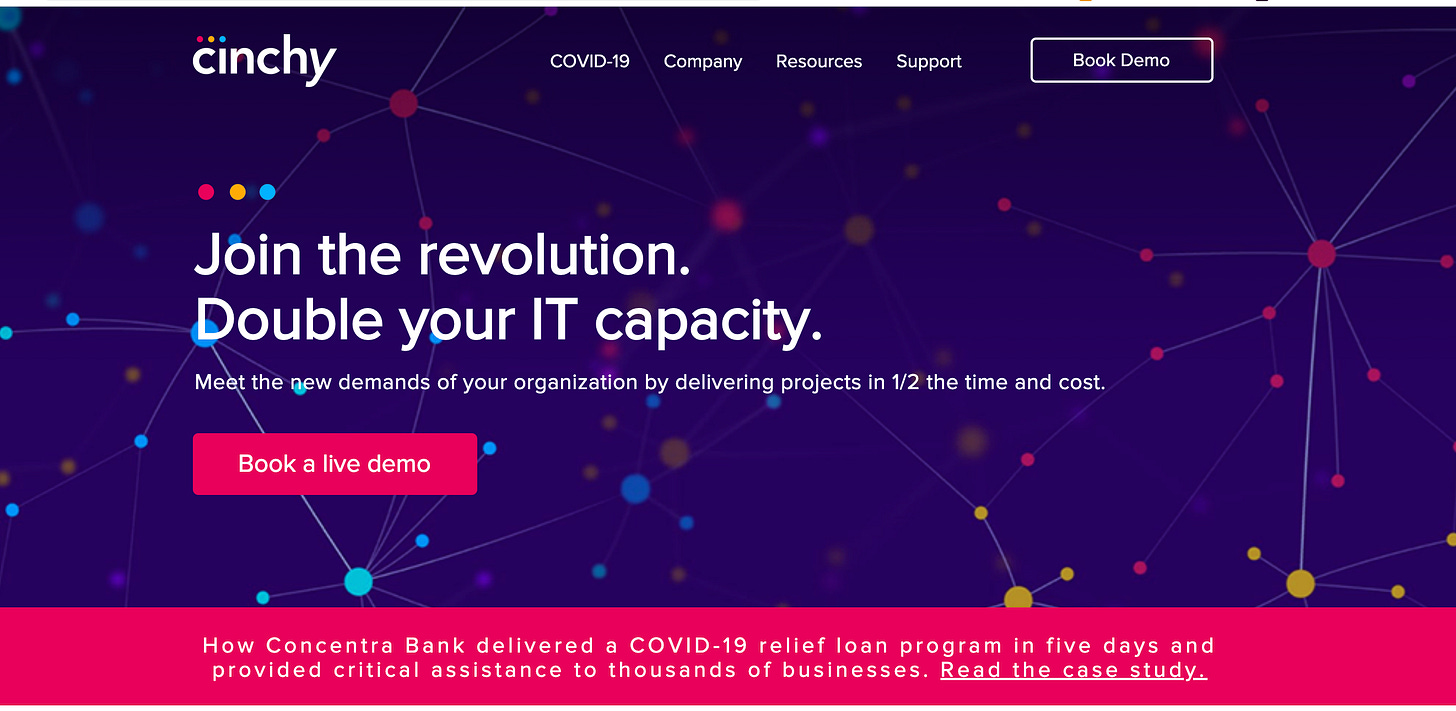 Cinchy recently worked with a credit union in Saskatchewan to offer a fully digital experience for small businesses to apply for a loan (read the case study) - in only 5 days they progressed from concept to white label. In this way, Cinchy can help accelerate the digitization of service delivery - which is great for smaller fintechs in the space as well.
Looking ahead, Cinchy is exploring ways that the firm can have a similar effect in the health space; whether that's through contact tracing, inventory supply management, mobile data collaboration, etc. As more firms look to better manage and protect their datasets, there seems to be infinite use cases.
I like that the firm is anticipating more robust privacy standards. Rather than build a reactionary tool (as we have seen flood the market with GDPR and CCPA), they're offering a superior model for data management. Perhaps Canada will be a true role model for the rest of the world as we work towards a data bank of sorts - a massive future opportunity. I look forward to watching the company's progress.
---
"The law doesn't prohibit remote monitoring of workers, as long as they're informed."
Canada has a 20% productivity gap with the US. While ~1.1M people in Ontario are without a job, many others have eased into the new normal of working from home. There are a range of software "tools" that help employers "manage productivity," and more. While I can see the allure if I try hard enough, I'm not a fan. I think we need stronger resistance to employee stalkerware.
One example of "employee monitoring" that I came across is Montreal's Officevibe - but it seems to measure mood based on surveys/pulse checks. That's cool.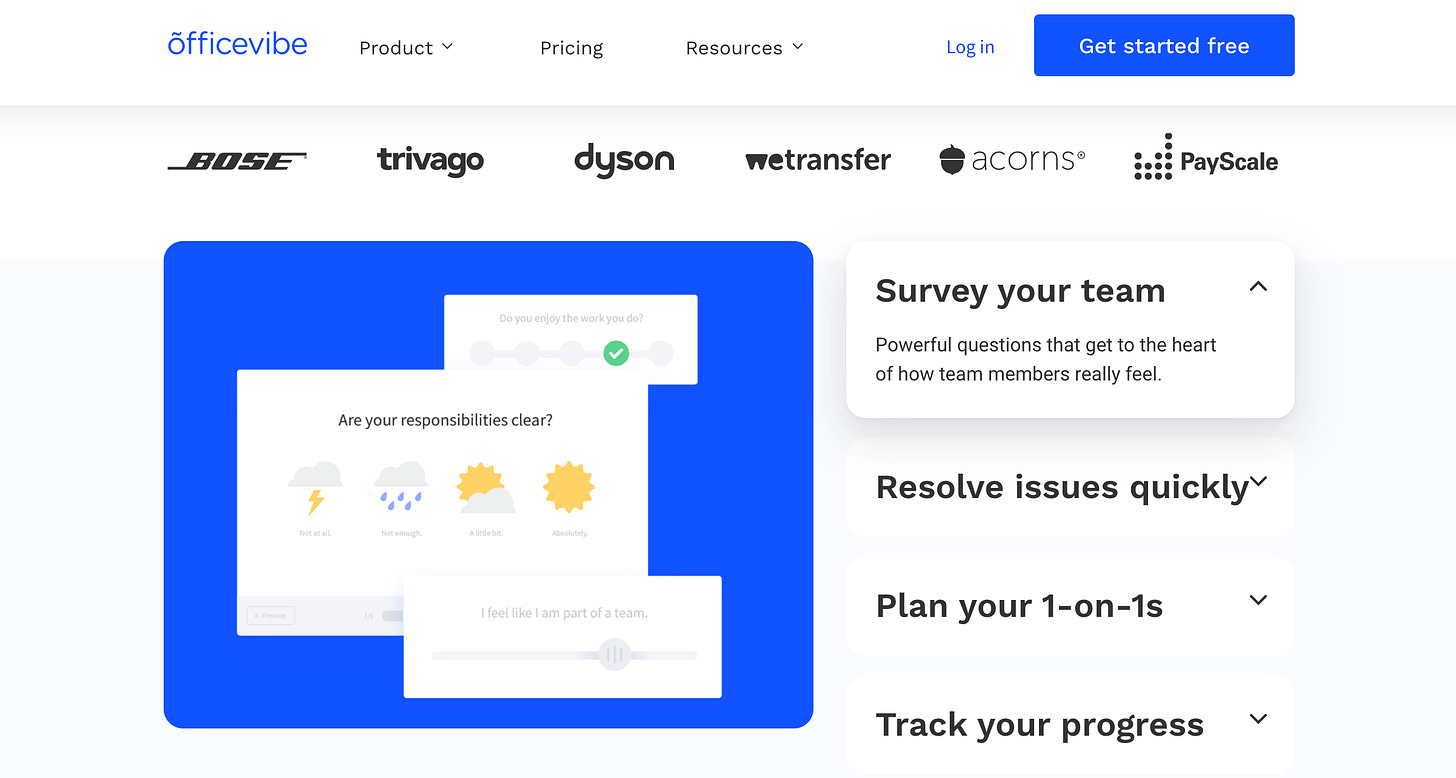 Contrast this with US-based
Hubstaff
, which can monitor screen time, mouse activity, GPS location, and more.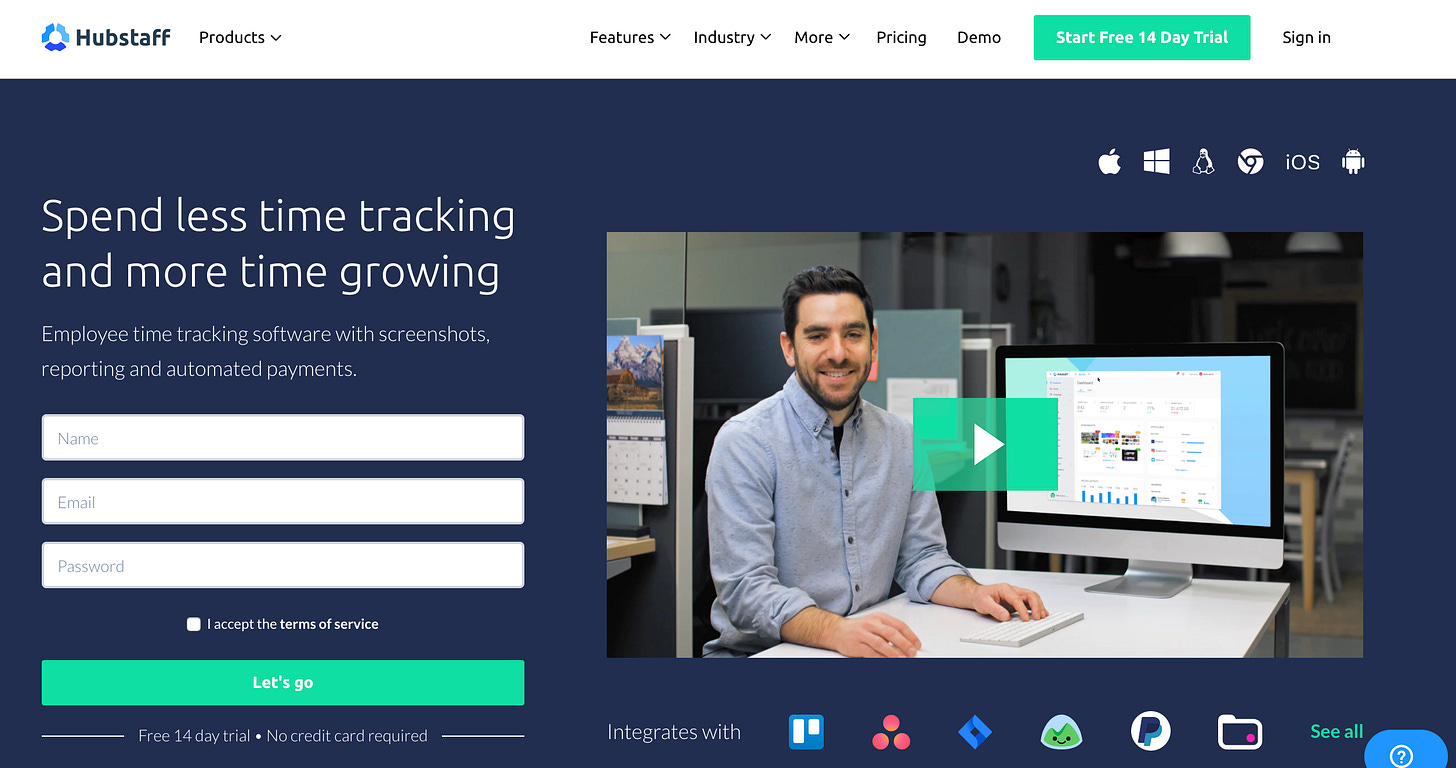 "The easy way to measure employee productivity."

In addition to tracking key strokes and the location of an employee, AI can monitor body language and facial expressions to gauge mood. I worry/wonder whether we'll see these technologies come to campus, and have professors enjoy a handy dashboard showing who is actually engaged in a lecture, where they are, and how many times they blinked.
Anyways: this cheery productivity creep could benefit from more concrete legislation that favours the worker. Post-pandemic, employee rights risk being further diminished if digital surveillance becomes the "cost" or "price" of working. Perhaps this is a cause for a more future-oriented labour union to champion. 🏆
---
How to be my BFF 101: let me borrow a book, deliver me beer, then sit on my porch with me and crack one (*thank you Chris for letting me write inside your book). 🍻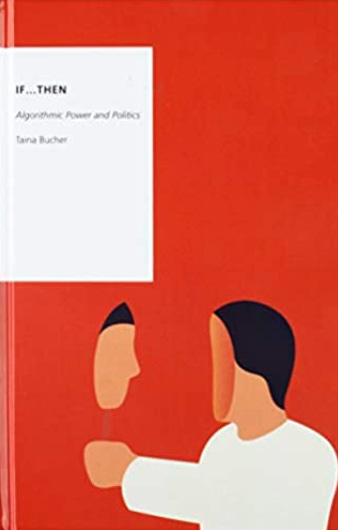 [JACKET COPY] We live in a world in which Google's search algorithms determine how we access information, Facebook's News Feed algorithms shape how we socialize, and Netflix collaborative filtering algorithms choose the media we consume. As such, we live algorithmic lives. Life, however, is not blindly controlled or determined by algorithms. Nor are we simply victims of an ever-expanding artificial intelligence.
Rather than looking at how technologies shape or are shaped by political institutions, this book is concerned with the ways in which informational infrastructure may be considered political in its capacity to shape social and cultural life. It looks specifically at the conditions of algorithmic life -- how algorithms work, both materially and discursively, to create the conditions for sociality and connectivity.
The book argues that the most important aspect of algorithms doesn't lie in their technical details but rather how they become part of social practices, and how different people enlist them as powerful brokers of information, communication and society. If we truly want to engage with the promises of automation and predictive analytics entailed by the promises of "big data", we also need to understand the contours of algorithmic life that condition such practices.
Setting out to explore both the specific uses of algorithms and the cultural forms they generate, this book offers a novel understanding of the power and politics of algorithmic life as grounded in case studies that explore the material-discursive dimensions of software.
---
"billy" is for legislative bills. I know, no space content this week. 😥
Canada is a legislative laggard, so it's important to keep an eye on what other jurisdictions are doing. Part of why the policy + technology space is so fascinating is because there is so much "public policy by Google," which just means civil servants furiously Googling to fill out a jurisdictional scan chart. I've done it, too.
The California Legislature has a Bill moving forward that would require "mobility devices" (bicycles, e-bikes, bike shares, electric scooters, autonomous vehicles) to share aggregated and anonymized trip data with the municipal or state government.
This bill would authorize a public agency, defined as a state or local public entity that issues a permit to an operator for mobility services or that otherwise regulates an operator, to require an operator to periodically submit to the public agency anonymized trip data and the operator's mobility devices operating in the geographic area under the public agency's jurisdiction and provide specified notice of that requirement to the operator.

The bill would authorize a public agency to share anonymized trip data with a contractor, agent, or other public agency only if specified conditions are met, including that the purpose of the sharing is to assist the public agency in the promotion and protection of transportation planning, integration of mobility options, and road safety. The bill would prohibit a public agency from sharing trip data with a contractor or agent.
(a) "Aggregated" means that the data reflects average information, including trip length, trip duration, approximate trip, and location of no less than five separate trips by no less than five separate users.

(b) "Anonymized trip data" means data pertaining to a trip taken by a user that has been aggregated and de-identified.

(d) (1) "Mobility device" means any transportation device or vehicle, including, but not limited to, a bicycle, electric bicycle, dockless bicycle, electric scooter, vehicle utilized on the online-enabled application or platform of a transportation network company, as defined by Section 5431 of the Public Utilities Code, autonomous vehicle, and any other device or vehicle by which a person can be propelled, moved, or drawn that is displayed, offered, or placed for rent in any public area or public right-of-way.
So, in exchange for a business license, the state will receive information on "trips" to "help" with transportation planning.
At first glance, this seems like a bit of "creep." Take the City of Toronto - the City issues and maintains a boatload of permits and licenses. For instance, did you know that buskers are licensed? What about pedi-cab drivers or commercial dog walkers? Mandating that a data exchange is conditional on obtaining and maintaining a license is exploitative, and a hangover from Uber's "agree to whatever" strategy.
Do dog walkers share data with the city on the type of dogs they walked, length of the trip, the route? Do pedi-cab drivers submit reports on the trips?
Many Qs. I suppose it's unclear whether the data will be used. For instance, if enough people are cycling in certain areas, will we make a bike lane or a sharrow? It will be incumbent on these governments to demonstrate their strategic use and application of these data sets. Further, if these firms share trip data with the City or State/Province, why not share with everyone? At this point, I have low confidence that the data will be used productively and high confidence that it will create an additional administrative burden.
Last but not least, one tangible Toronto example of the City partnering with a digital firm is Waze. It is not apparent that this two-way data partnership has refined our transportation planning.
---
tune: HAIM - I Know Alone 🏀
Social distance music video! "Originally inspired by the band's feeling of loneliness after returning from tour, the lyrics take on a life of their own amid the current pandemic."
Been a couple days since I've been out
Calling all my friends but they won't pick up
Found another room in a different place
Sleeping through the day and I dream the same

I don't wanna give, I don't wanna give too much
I don't wanna feel, I don't wanna feel at all
---

---
Vass Bednar writes "regs to riches" and is a public policy solo-preneur. She recently started teaching a new MPP elective at the Munk School of Global Affairs and Public Policy on Topics in Public Policy and Technology. 👩‍🏫
She can be reached at vasiliki.bednar@gmail.com or follow her (er, me) on Twitter @VassB.
Archives available via regstoriches.substack.com