Discover more from regs to riches
That one simple trick to make the economy work better.
Over 2,000 subscribers
11/16 y-combinator companies
11 Canadian companies in y-combinator's winter 2020 cohort
Case Studies: 11 Canadian Companies in Y Combinator's Winter 2020 Demo Day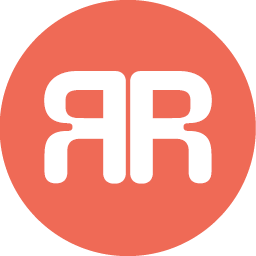 bite size case studies
Let's skim the 11 Canadian companies in Y Combinator's Winter 2020 Demo Day - there are 16 total, but five of these are not currently being publicized and are considered "off-the-record." So secretive!
What regulatory hoops might they want or need to jump through? What promising companies were Canadians building pre-pandemic?

Below I highlight some related policy areas, if any jump out. Let me know what you think, and what I might have missed.
*Y Combinator ("YC") created a new model for funding early stage startups. Twice a year, the incubator moves these nascent companies to Silicon Valley for 3 months, during which the firm works intensely with them to get the company into the best possible shape and refine their pitch to investors. Since 2005, they've funded over 2,000 startups.
Breezeful - is an online mortgage broker that targets consumers in any financial situation, including people who are self-employed, have poor credit, have been denied by banks, or are new to Canada.
VB: Given that lenders are being overloaded with calls from borrowers trying to defer their mortgage payments and some borrowers are even lying about losing their jobs (according to lenders), there's probably space for another online aggregator that can help people shop for rates (providing breezeful isn't just a ratehub knockoff).
How are mortgages even regulated? The Financial Services Commission of Ontario (FSCO) oversees the mortgage brokering industry via the Mortgage Brokerages, Lenders and Administrators Act, 2008, which requires all individuals and businesses in Ontario who carry out mortgage brokering activities to be licensed/registered with the FSCO.
Breezeful is registered! I'm impressed.
This is the Government of Canada's homepage on mortgages.
PS. If you feel like learning more about mortgages in Canada, the Bank of Canada has a neat little report The Impact of Recent Policy Changes on the Canadian Mortgage Market from November 2018.
Brokrete - targets the concrete industry with a real-time ordering app for Apple and Android. The company has developed an application that aims to change the way contractors order and manage ready-mix concrete and software for concrete suppliers to manage deliveries.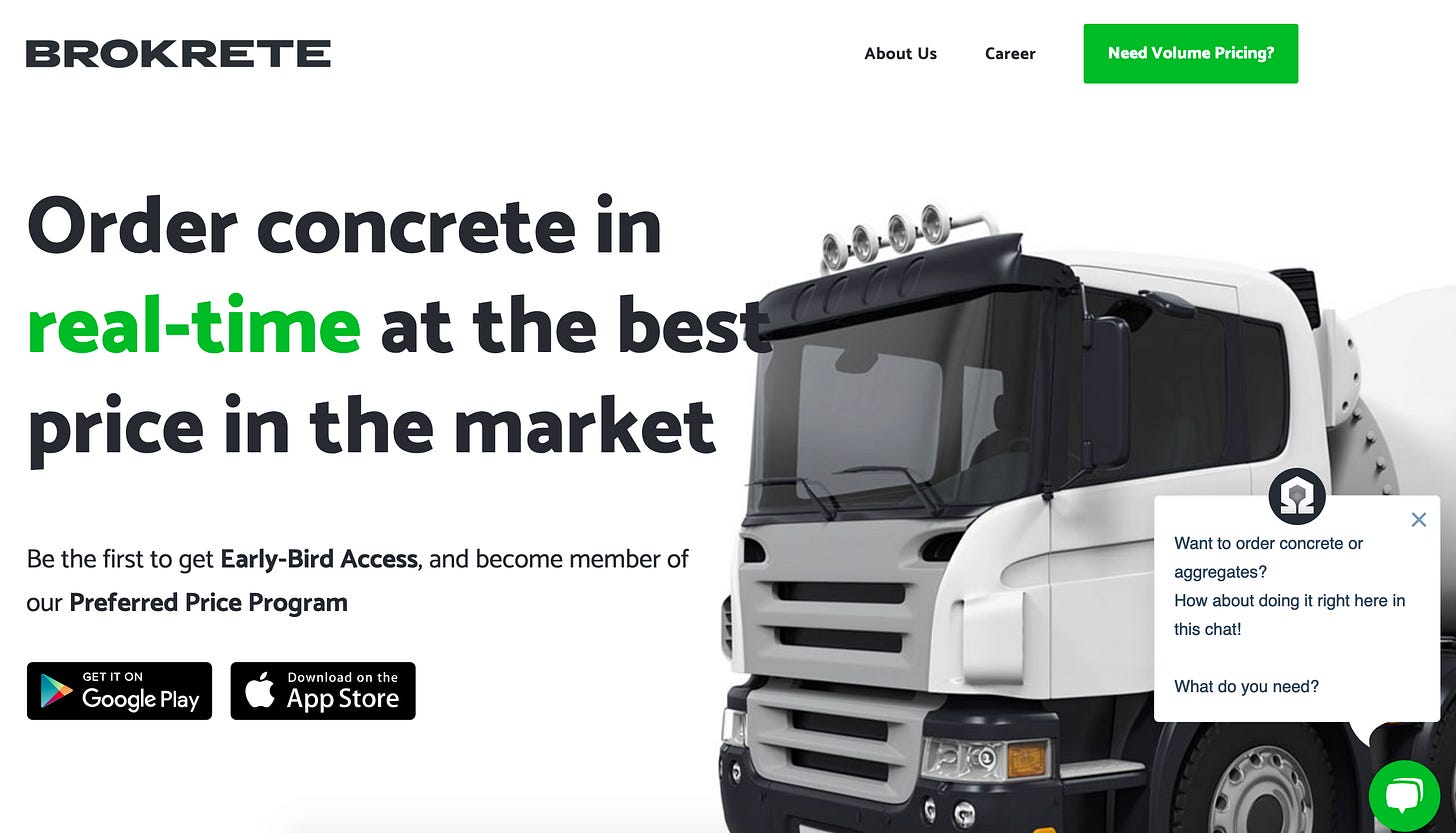 VB: Fascinating - I love learning that ordering ready-mix concrete is a pain point for some people. But how do we feel about the location sharing of someone managing a concrete order and "watching" the location of the trucks? I don't love it, even if I DO love supply-chain efficiencies as much as the next girl.
The Cement Association of Canada has codes and standards for cement. I guess even cement is on-demand, now. Doesn't it make more sense to order your concrete in advance? What would happen if I ordered some cement right now?

PS. Is the "bro" for "broker" or…"bro"?
Castodia - has created a tool that lets non-technical teams pull data from any database into Google sheets. The tool allows users to search for data, create custom queries, filter and sort information, and reload columns within spreadsheets - basically live life to the fullest.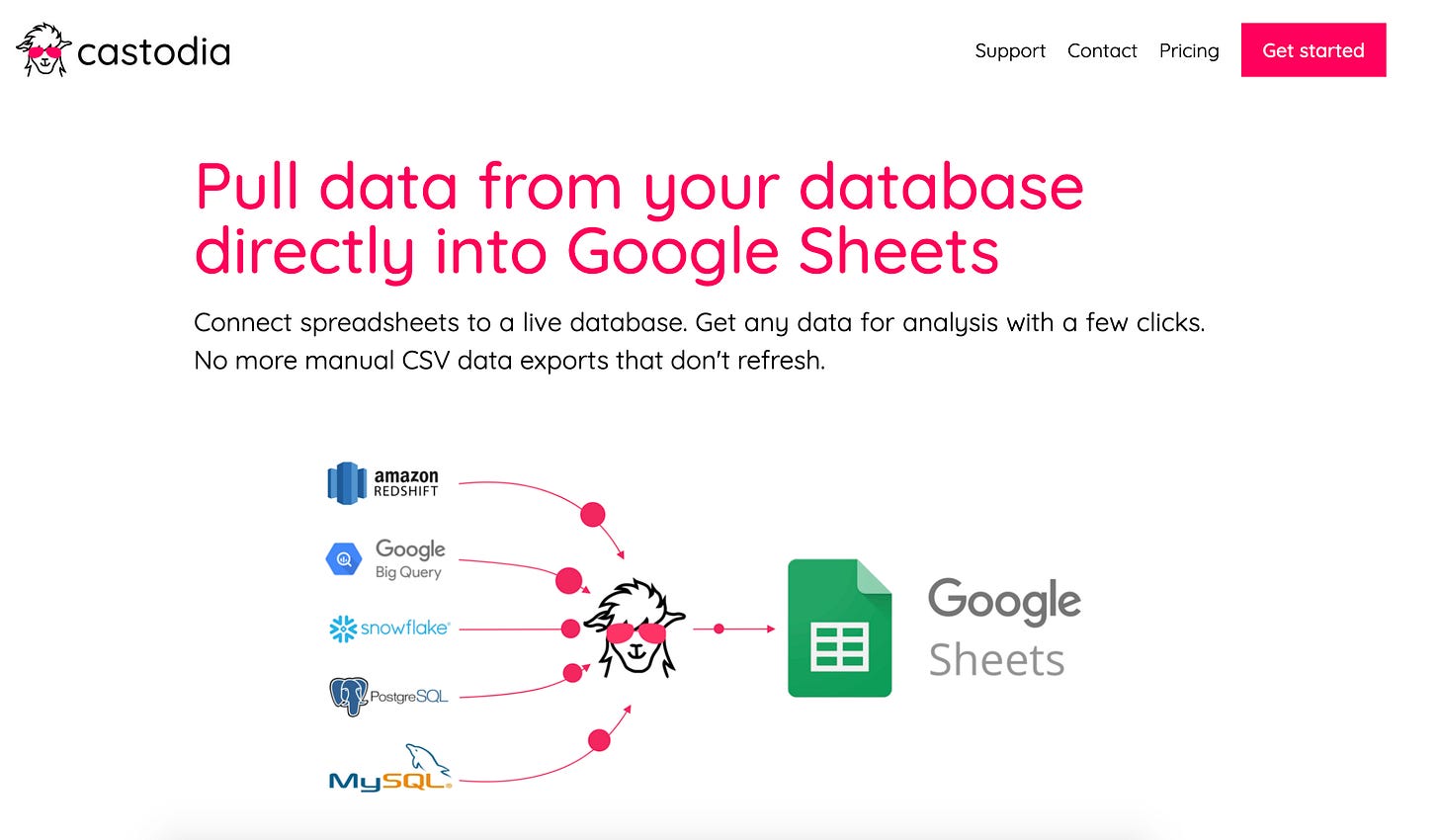 VB: Get that data, honey!
I found it hard to imagine situations where non-technical teams are pulling data from a database into Google sheets. What databases? Tell me in the comments if you can think of an example.
I took a look at their privacy policy - they mention both GDPR and the CCPA but I couldn't figure out whether the company is laying claim to any ownership of the data that might be uploaded. Update: Their CEO confirmed for me that they don't keep copies of companies' database and that they also don't store connection credentials. Good data stewardship in action.
Cyberdontics - has developed technology for the dental industry that is intended to automate the shaping of teeth to create crowns in a fraction of the time currently required.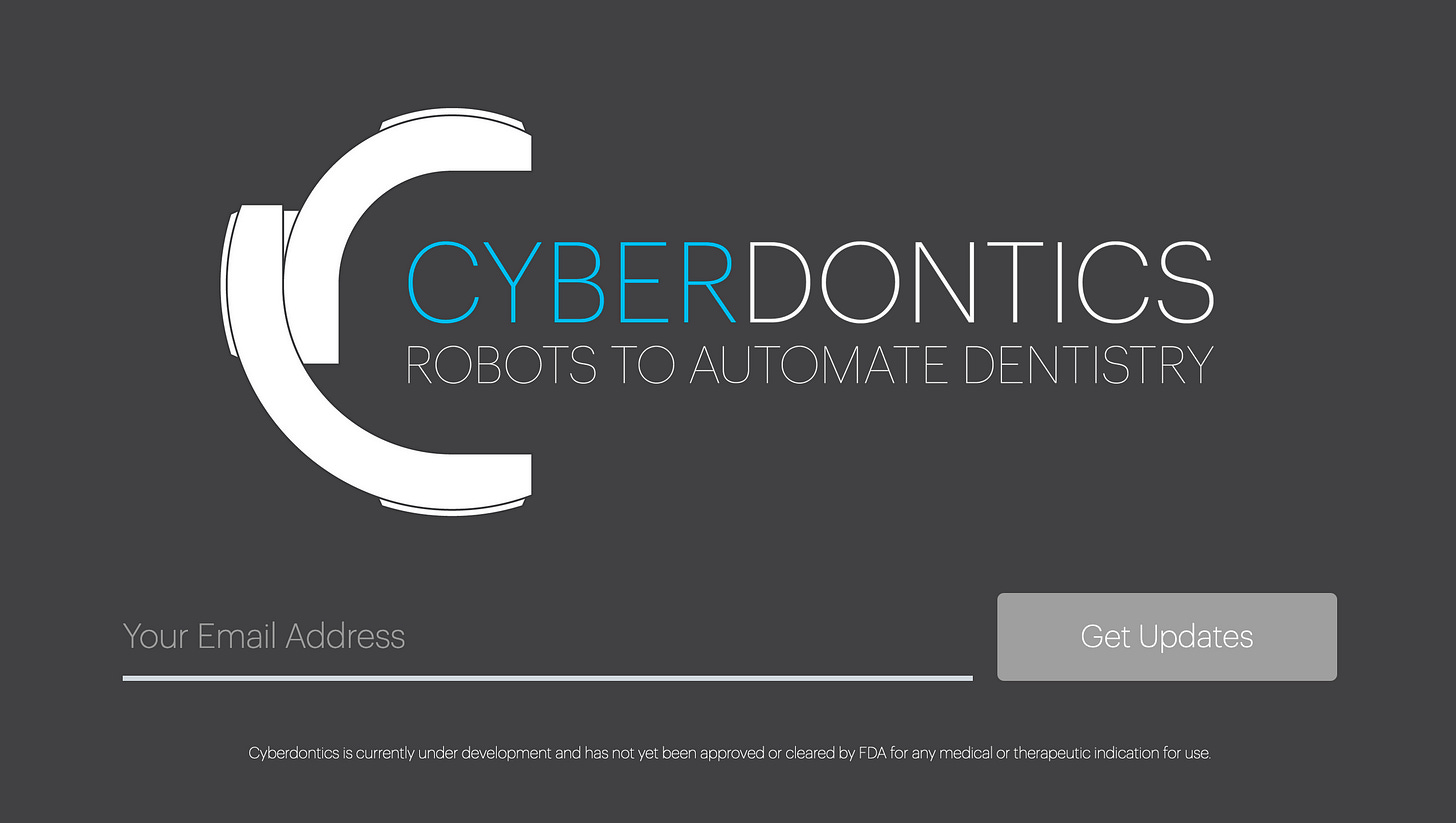 VB: I mean, how long does it really take to create crowns? I want to meet the people that are like, "wow, making these crowns is really taking up too much time," but that will be hard right now because I am self-isolating.
Update: Reducing time under the drill from an hour to three minutes is an important advantage to patients, as is the one appointment that is eliminated. In a typical practice, Cyberdontics technology will save ~300 hours/year that dentists may use to build their practice, increase their incomes, or spend time away from the office.
The company is currently in development and has not yet been approved or cleared by FDA for any medical or therapeutic indication for use. This blog from Y-Combinator has some good thoughts re: startups and NDAs.
Deep Meditate - is a mobile application that aims to help users meditate and get better sleep. It's currently available on Google Play.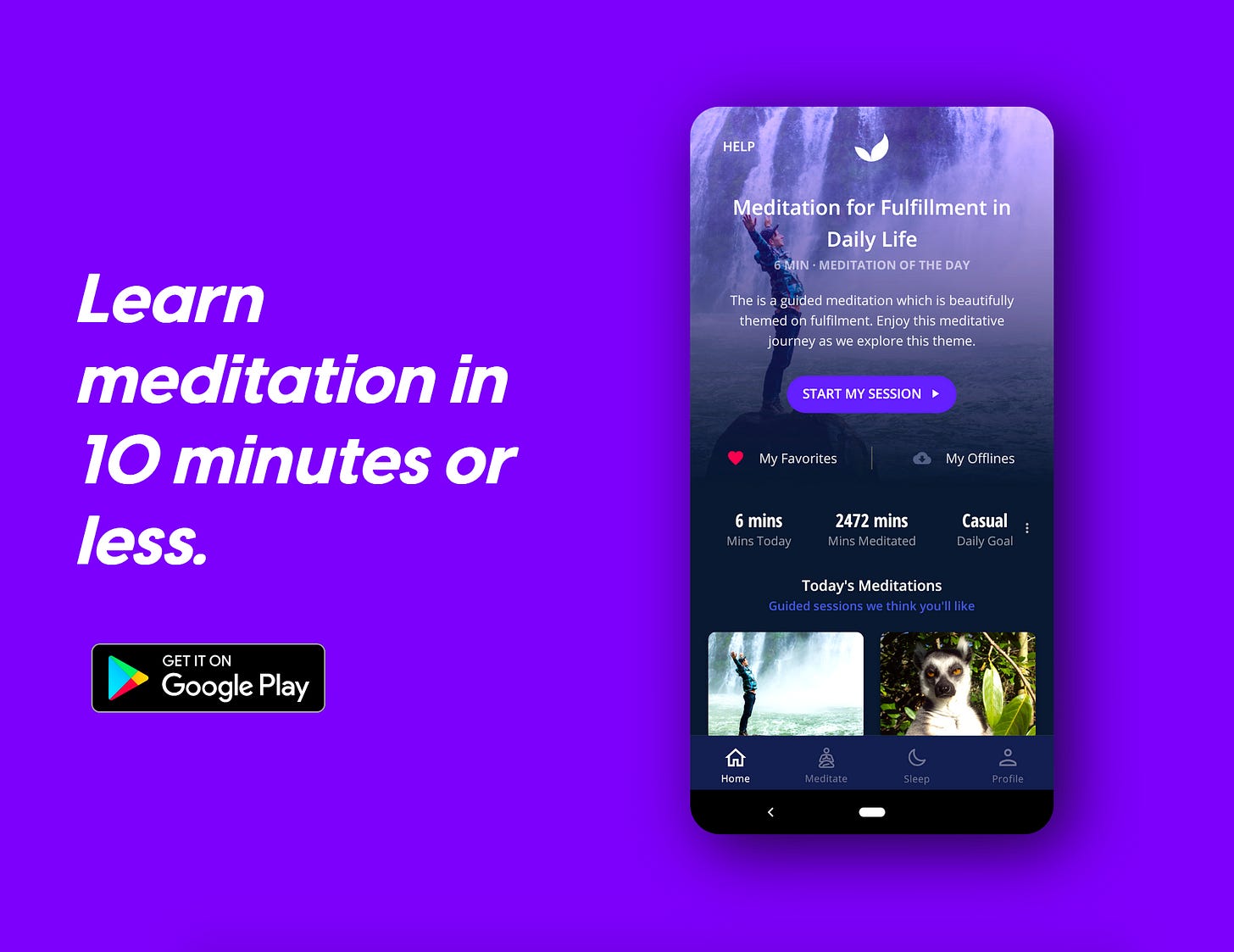 VB: Wellness. I love the contrast of wanting to learn to meditate - but doing it FAST. Let's optimize EVERYTHING! Because I don't have an android device, I can't test this out and dig in. What data are they tracking? What's the shortest amount of time someone spent learning meditation? Is meditation enough for constant low-grade anxiety about the economy, or should I see my doctor?
Anyways, no regs come to mind but it's not clear how these guys will successfully differentiate from market leaders like headspace and calm.
Lilia - calls itself an "egg freezing concierge." The company helps women figure out their fertility options and make a data-backed decision on next steps. Lilia then researches insurance coverage, lays out the process, and gives guidance on best clinics to go to. Then, the company books customers into a vetted clinic and offers on-demand support.
*I focused discussion on Lilia in this week's free newsletter.
Menten AI - leverages synthetic biology, machine learning, and quantum computing to create new proteins not found in nature, for applications in the pharmaceutical and chemical industries.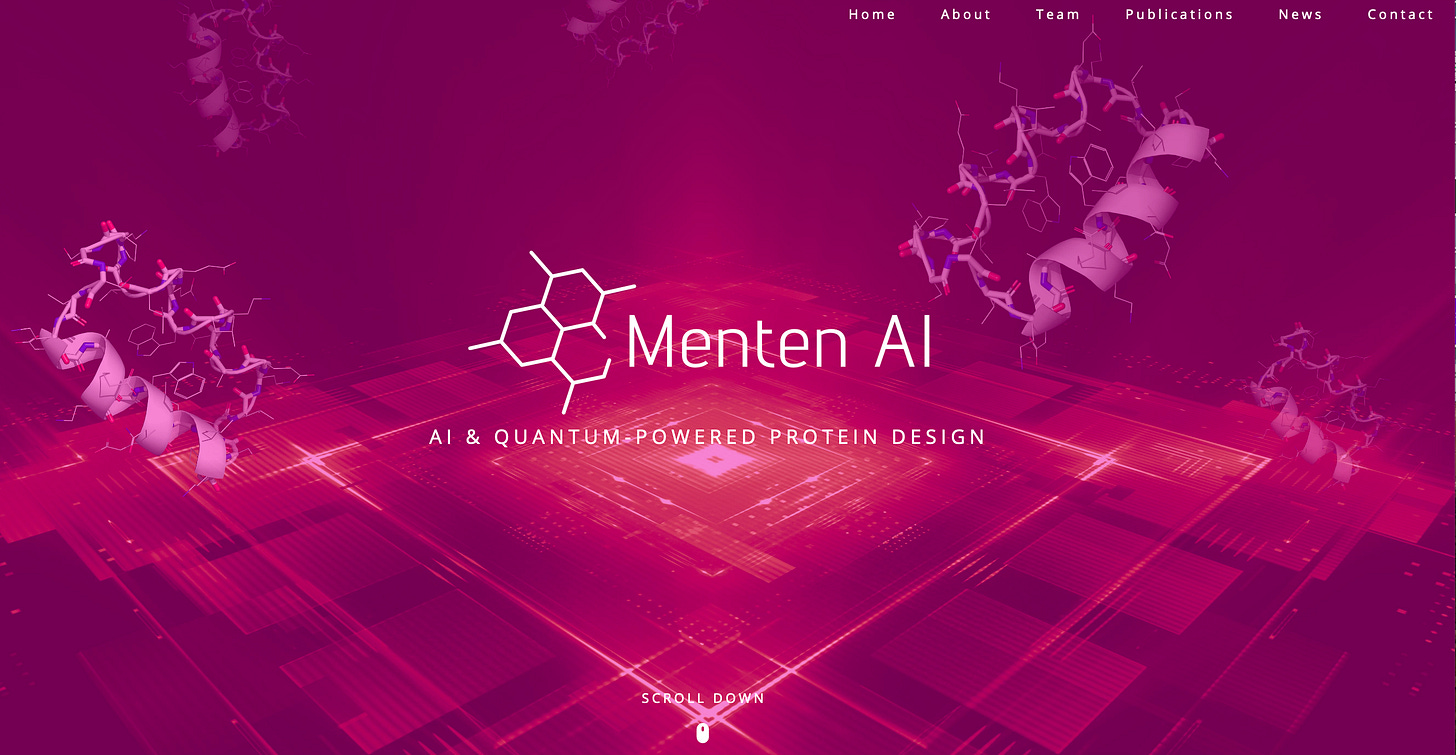 VB: The phrase "new proteins not found in nature" just makes me think "teenage mutant ninja turtles." A lot is going on here (synthetic biology, machine learning AND quantum computing) and they have publications like: "designing peptides on a quantum computer," "de novo design of bioactive protein switches," etc.
I read that synthetic proteins can be designed to halt the growth of cancers. Look, health is a highly (and well) regulated space, so the regs to riches here is basically FDA-approval (in the US). Here is the Government of Canada's webpage on drug and health product review and approval. Fun!
Modern Village - has created a toolkit that acts as a chief of staff for busy parents, helping parents proactively manage the week ahead.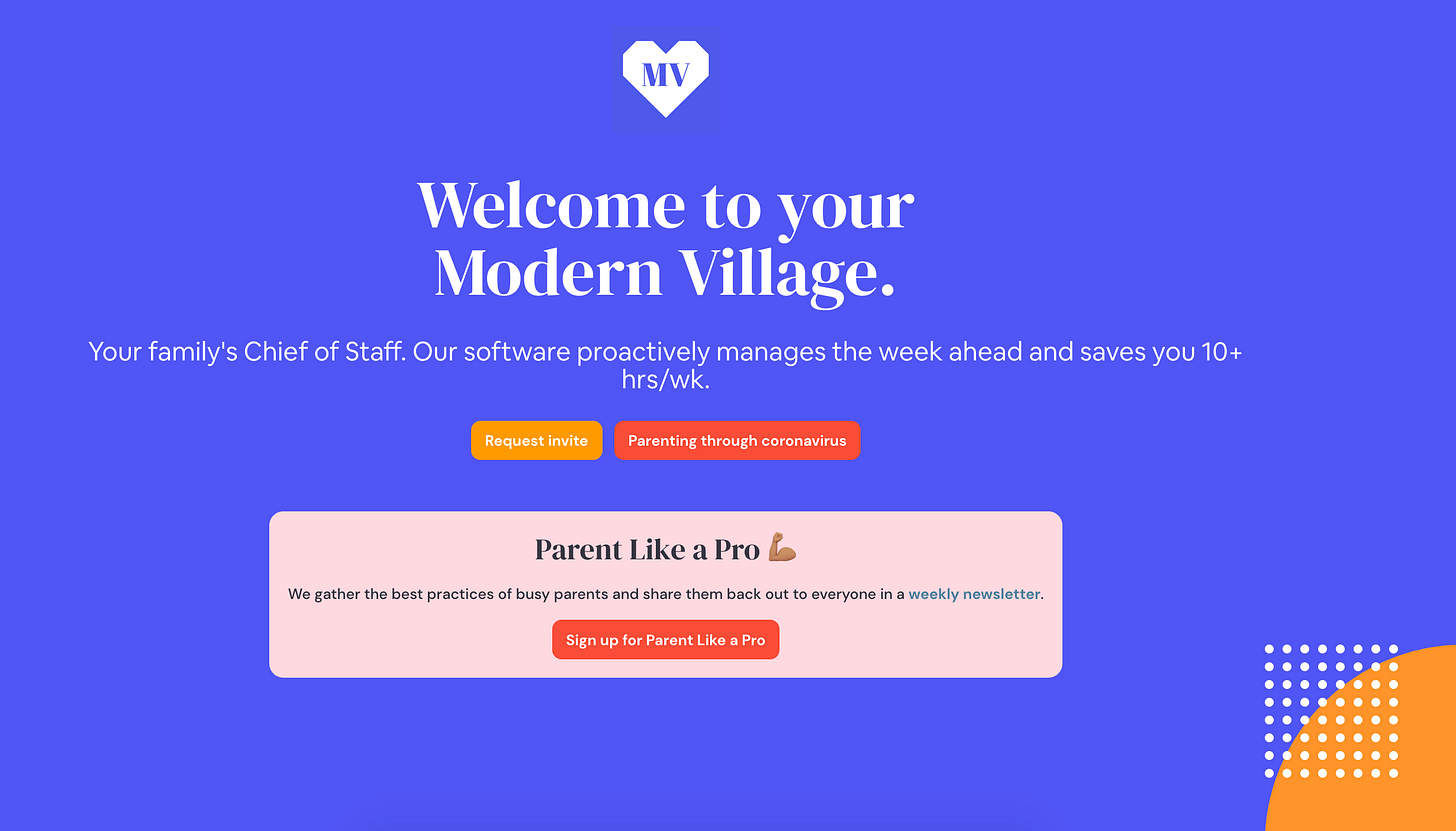 VB: Have you ever met a parent that isn't busy? I'm generally a fan of any tool that helps alleviate the administrative burden of life (PS. I'm not a parent), but let's be real: this is a "solution" for the invisible, feminized household labour that moms tend to take on. I'm pretty sure busy parents may not…have time to share their best practices.
Anyways, Modern Village is still in-dev, so it's too early to evaluate their methodology for time-saving. I'd be most interested in their privacy policy and pricing model. Are they slurping up calendar data? Reading your emails?
PS. If you want to freak out about read All The Rage: Mothers, Fathers, and the Myth of Equal Partnership by Darcy Lockman.
Nplex Biosciences - is a biotechnology company that offers pharma and academia the ability to measure many proteins from blood samples with high sensitivity and cost-efficiency.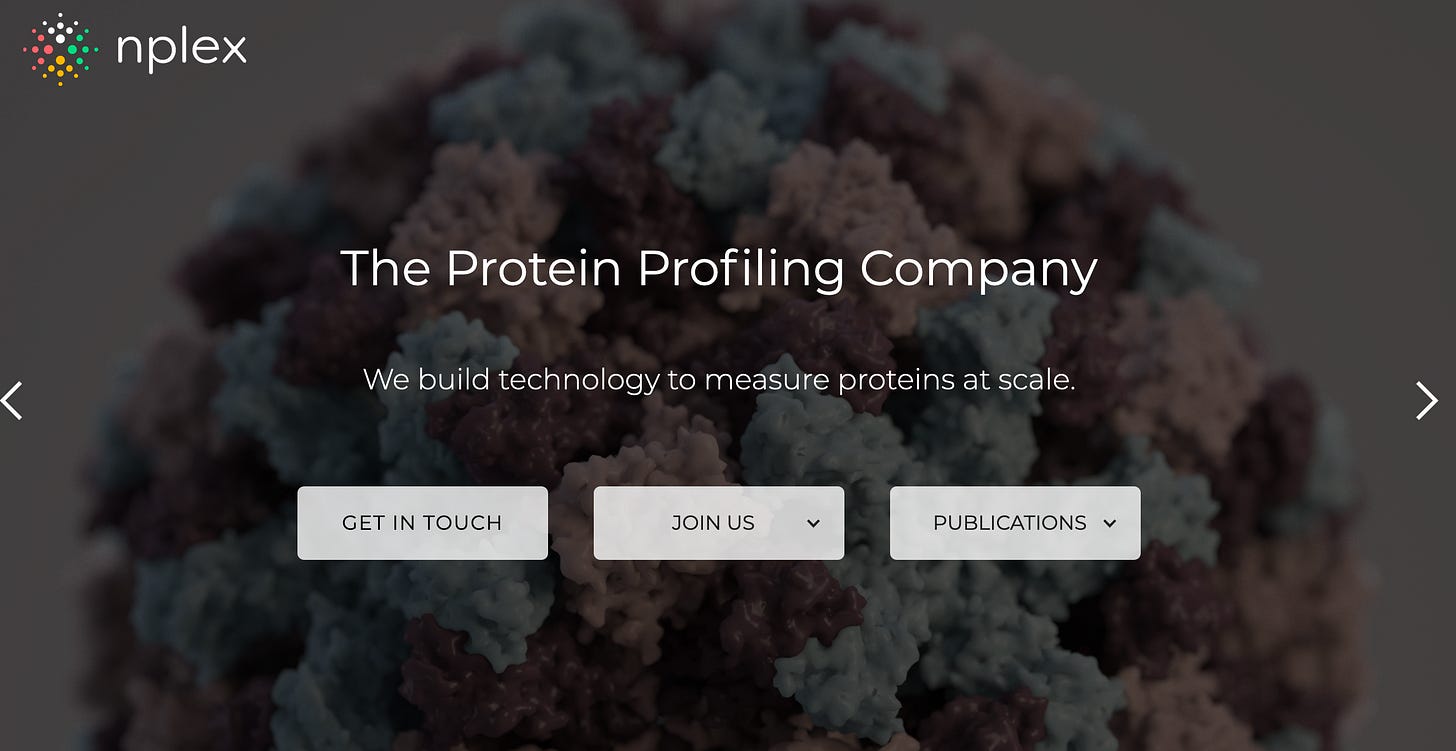 VB: Back on that protein train. Here is a phrase from their websute: "Precision Engineering the Nanoscale: Using DNA nanotechnology, we architect molecular systems that can measure 100's of proteins at once, sensitively and specifically, and with zero cross-reactivity" also this phrase: "Phenotypic screening using the secretome as an orthogonal and complementary read-out." Why is measuring proteins important? Protein quantification is necessary to understand the total protein content in a sample or in a formulated product. Accurate protein quantification is important as a range of other critical assays require precise total protein content results in order to generate data.

Someone's gotta do it.
Taiv - has developed a custom hardware and software solution for businesses that automatically shows custom content during commercial breaks to drive sales. The company lets businesses detect and replace commercials in live broadcast TV with their own custom content.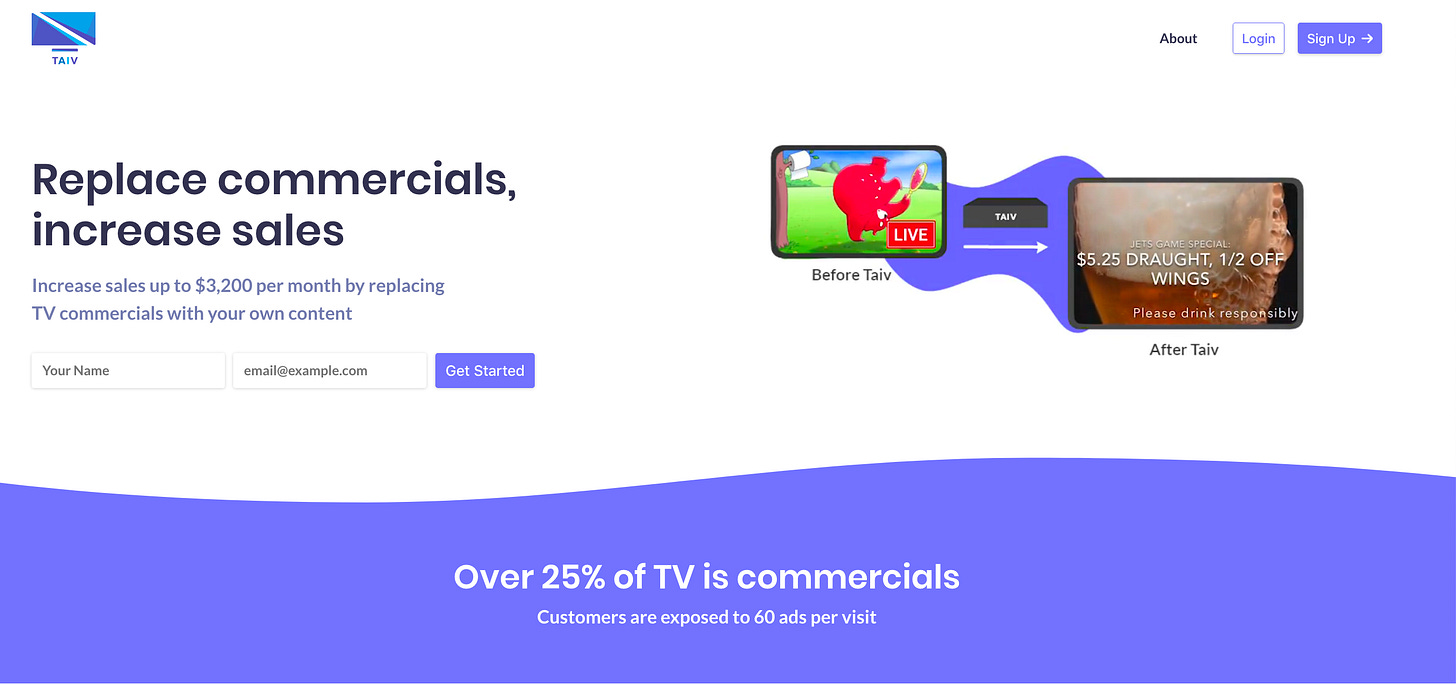 VB: I guess you have to have a cable for this to work?
My vibe: I feel like the CRTC might have some opinions on this - the Canadian Radio-television and Telecommunications Commission is a public organization in Canada with mandate as a regulatory agency for broadcasting and telecommunications. 
I used instagram to watch how it worked and there wasn't an answer.
Given the growth in advertising on Instagram and other social platforms, this play seemed unusual.
Turing Labs - aims to accelerate research and development for consumer packaged goods companies. The software helps companies create new brand formats, enter new product categories, and quickly transform existing products.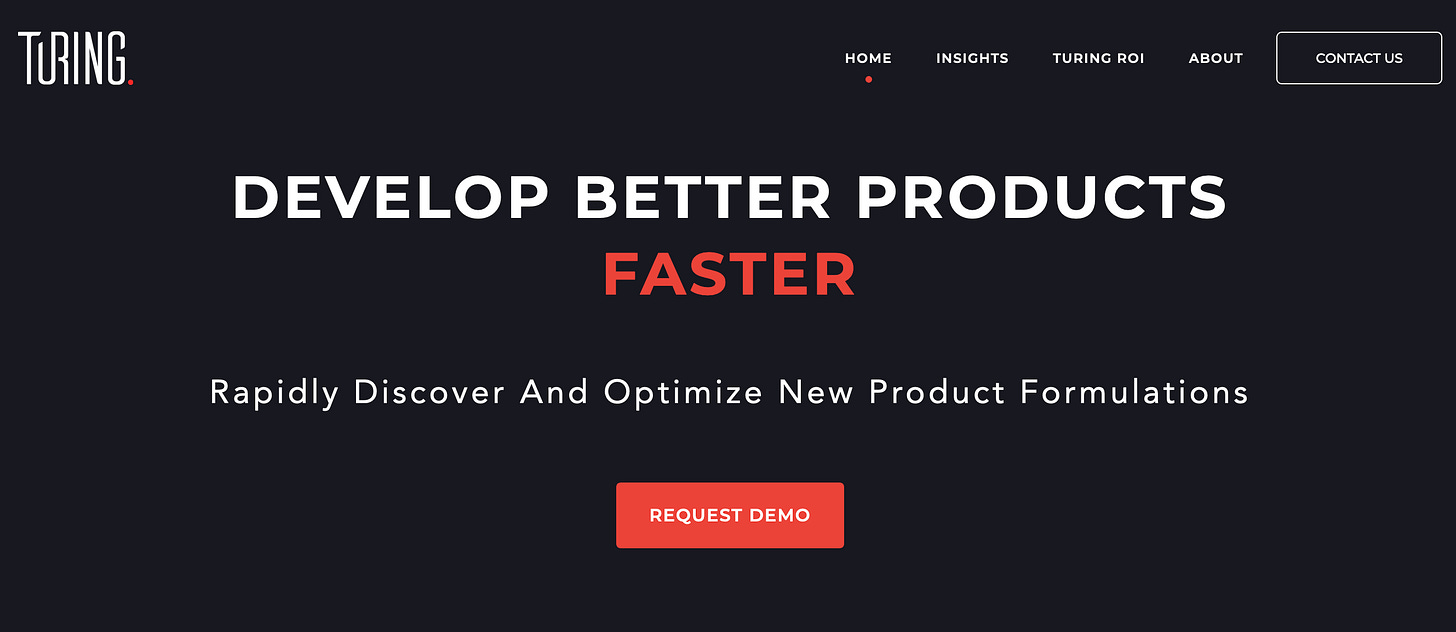 VB: Ok - faster R+D for packaged goods sounds good, if you make packaged goods. But I'm weary of software for product development; it feels like a data play, like a way to creep the product development processes of others. Also can we please stop pretending that the development process is tidy and replicable in a tidy way? In terms of regs, improving packaging could be compelling from an environmental standpoint.
*The regulatory framework for packaging materials in Canada is established by the Canadian Food and Drugs Act and the Food and Drug Regulations.
---
Okay, that was a really long one. Typically we just look at one company. Of these 11, I'm fascinated by the two protein research firms, but my feminist favourite is:
Lilia
.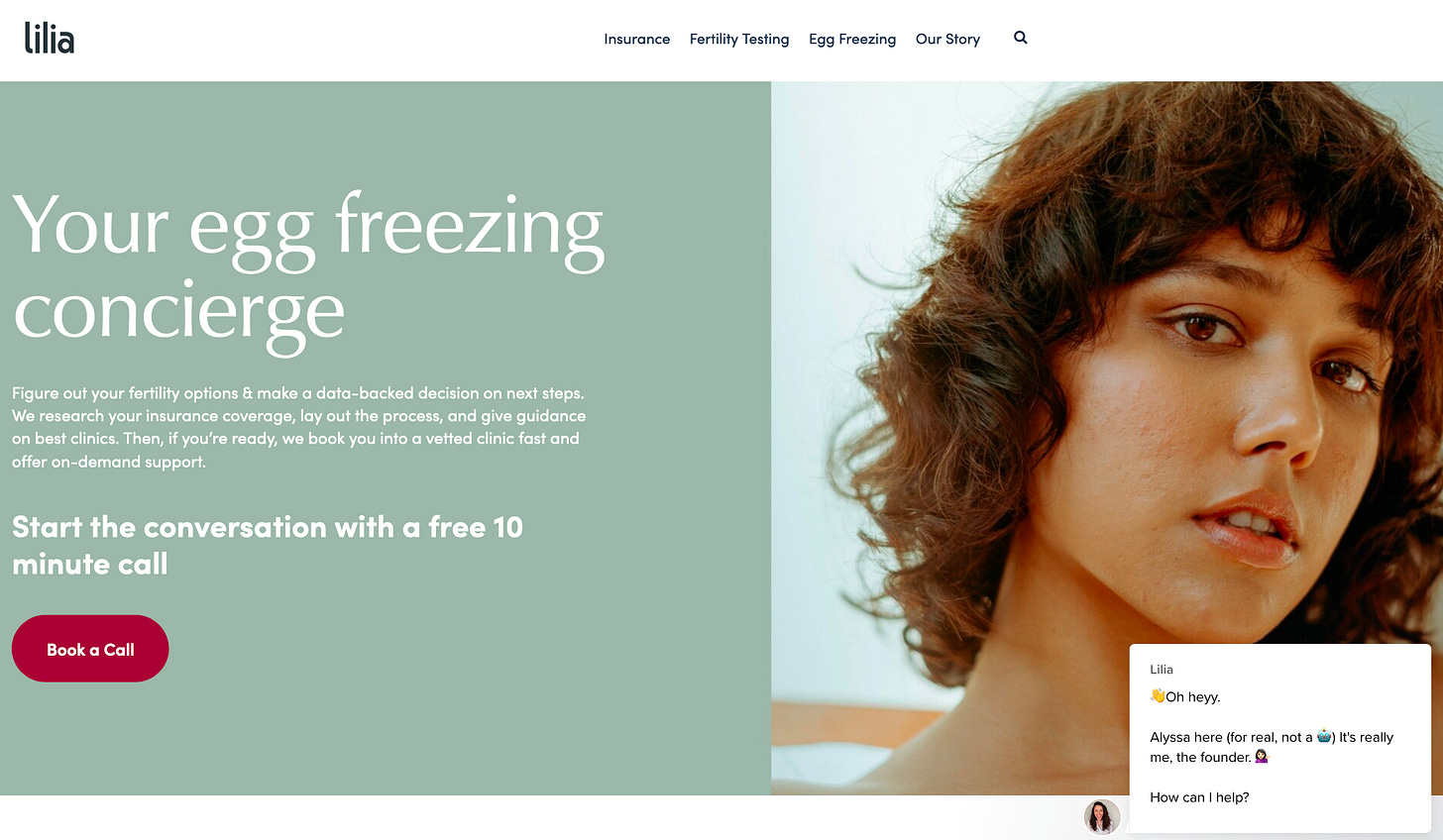 Vass Bednar writes "regs to riches" and is a public policy entrepreneur. She can be reached at vasiliki.bednar@gmail.com or follow her on Twitter @VassB.