Discover more from regs to riches
Regulatory hacking in Canada by Vass Bednar w/ friends.
Over 2,000 subscribers
#14
👻ghosting robinhood
This is a newsletter about regulatory hacking featuring (mostly) Canadian startups.
Because all start-ups need a regulatory strategy to succeed
.
*TBH I am freelancing a bit on this one - literally, figuratively.
💸steal intention from the not rich:

 

robinhood



🤷

scam or serious?

 

human ipo



🗞️

roll up the rim:

 

double-double tracking



📽️

the dark side of rewards programs



🌟

advertisers + data ethics principles



📚 

legislative pages

: 

ghost road - beyond the driverless car



🎶 

tune:

 

shamir

 "on my own" 
---
Fintech darling Robinhood has been selling users' order details [at 10x the rate of what other financial companies charge HFT firms] for some time now. Essentially, the *exchange* for commission-free trades isn't your personally identifiable data per se, but rather, the information related to your intent to buy/sell (in aggregate).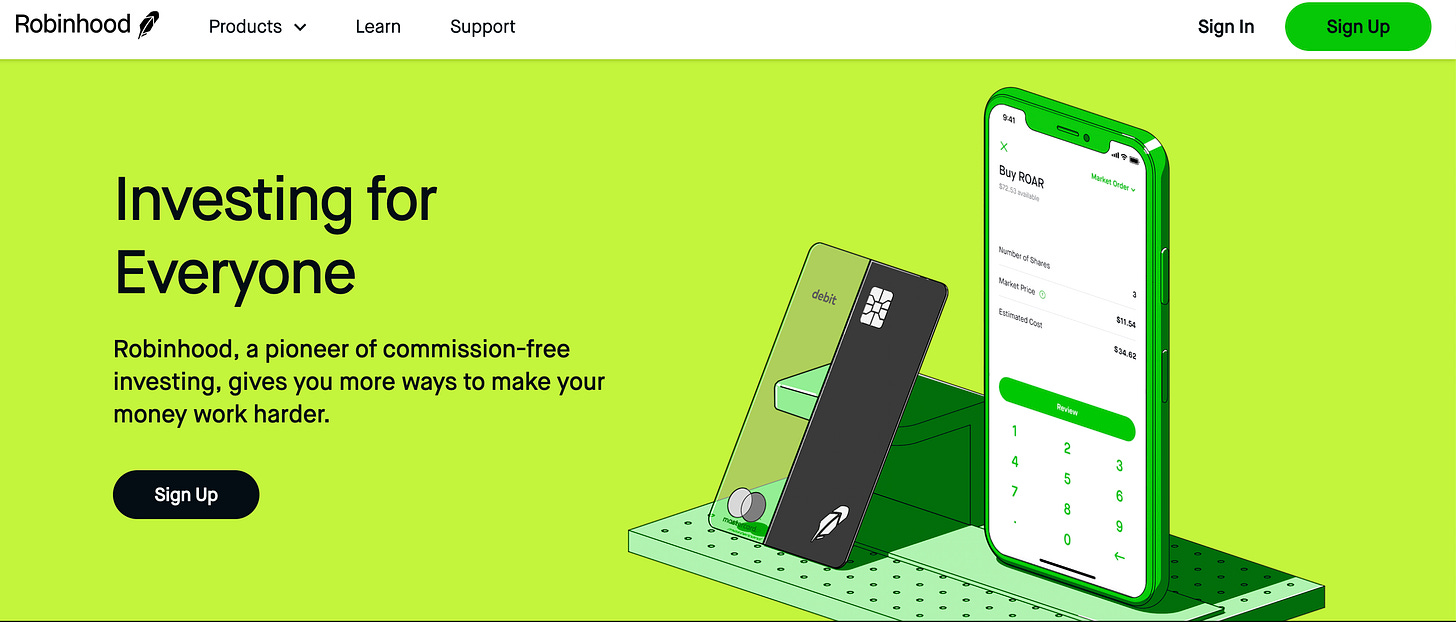 While the practice has been known of for some time (a couple of years), it has done little to tarnish Robinhood's halo. 👼 But is it ethical? Sometimes when we seek to answer that question, we over-focus on consent, transparency. Doesn't change the fact that it's a scam (of sorts).
Read more:
---
Is this real? SCREAM CLUB! 😱I sometimes have trouble understanding… reality when I am on the internet. This was featured on Product Hunt, which to my mind, offers it some legitimacy as a concept.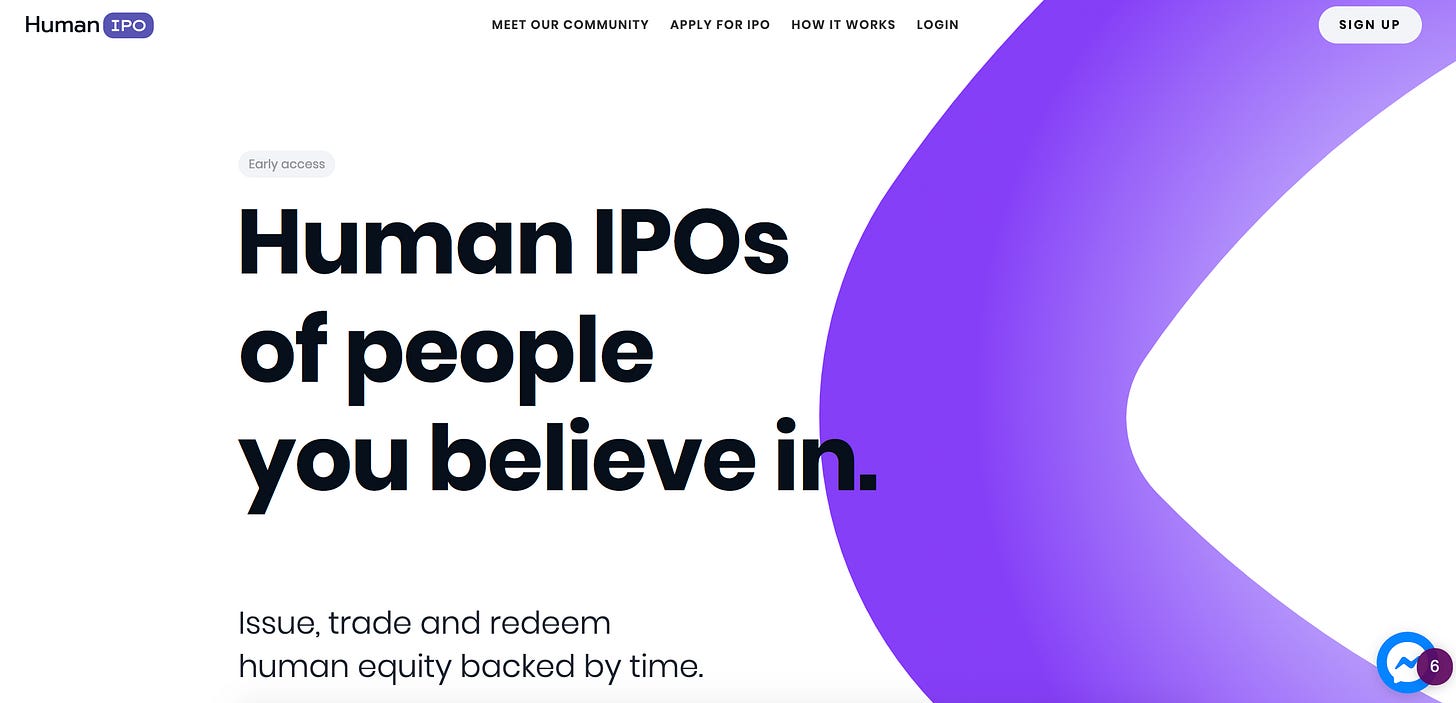 In the realm of ~creating new value~ human IPO essentially lets you bet on/invest in people. But rather than donate to a GoFundMe or remunerate them for their art, you earn a "share" of human equity. Siri, how do you spell s-c-a-m?
*From the website:
What is HumanIPO?
HumanIPO is a human equity exchange for human shares backed by time of issuers.
What is human equity?
Human equity is a financial asset that derives its value from personal achievements of an issuer. Human equity are based on the most finite resource individual has – his or her time. Each unit of human equity grants a holder of the asset one hour of time of the issuer.
What are the regulations of human equity and its underlying obligations?
Human equity is built around the principles of crowd-validation where holders of human equity collectively vote on the issuer adherence to original obligations, secondary issuances or changes to the original obligations. Issuers who do not pass the quarterly crowd-validation will not be able to do any secondary issuances or raise any other funds on the platform.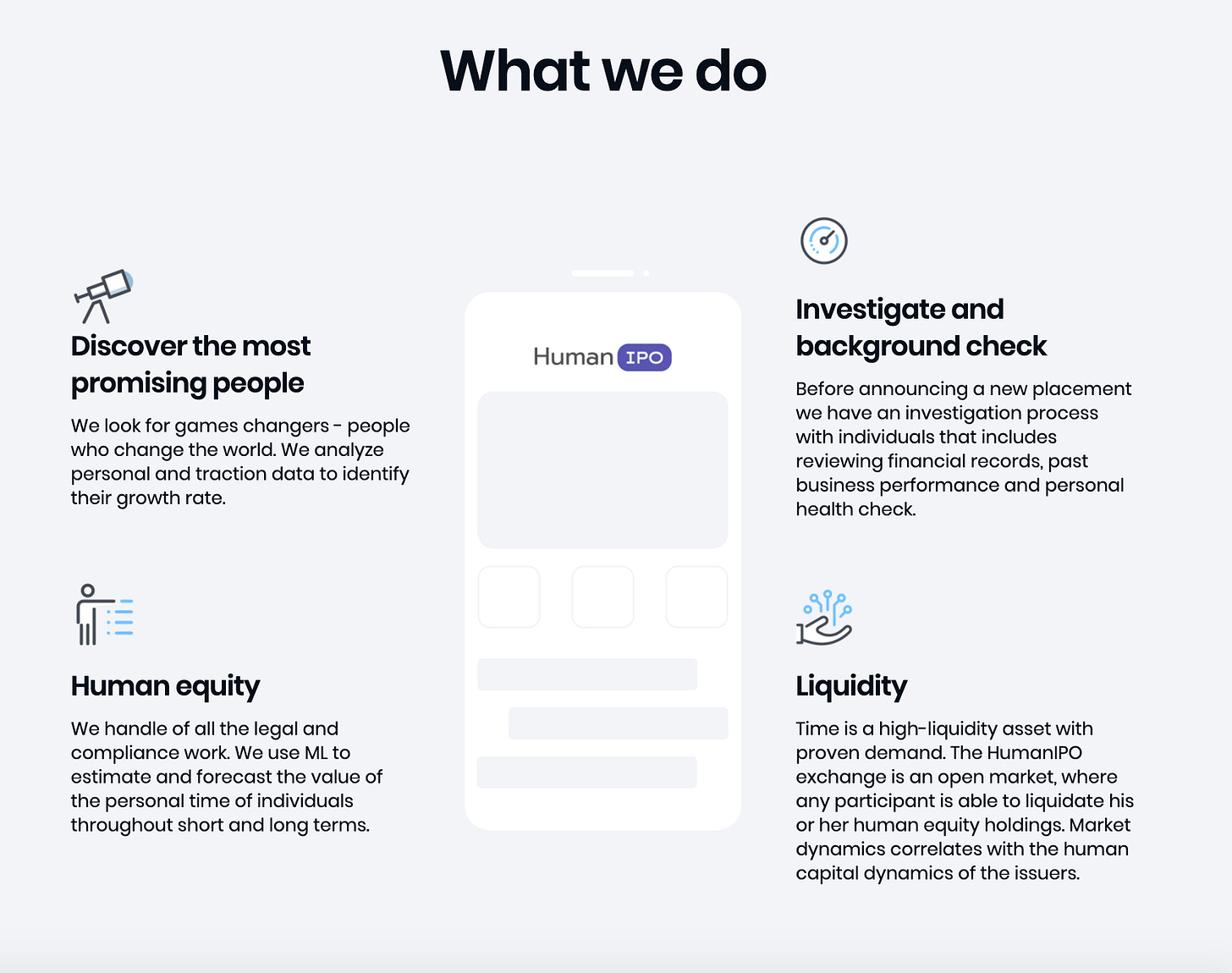 Human Equity Redemption
Once the holder of human equity indicates on the platform the desire to exchange the human equity for the issuer time, an issuer has to respond within 72 hours to propose several mutually acceptable time slots. The platform will facilitate communication and collect feedback from the holder once the exchange has happened. Positive and negative feedback on using the issuer's time will be used to keep the Social Score of the issuer on the platform. The initial score is 85 and will be adjusted up or down per point per redeemed hour.
This concept reeks of…a kind of digital slavery to me. Owning a portion of a person's time? What about: mentorship, sponsorship, and other forms of positive non-monetary support?
---
☕ roll up the rim to be stalked by a rewards app!
Mandatory reading: James McLeod on How Tim Hortons knows where you sleep, work, and vacation. James parses through the information that his Tim's app was digesting and assessing about him and it is FREAKY AF.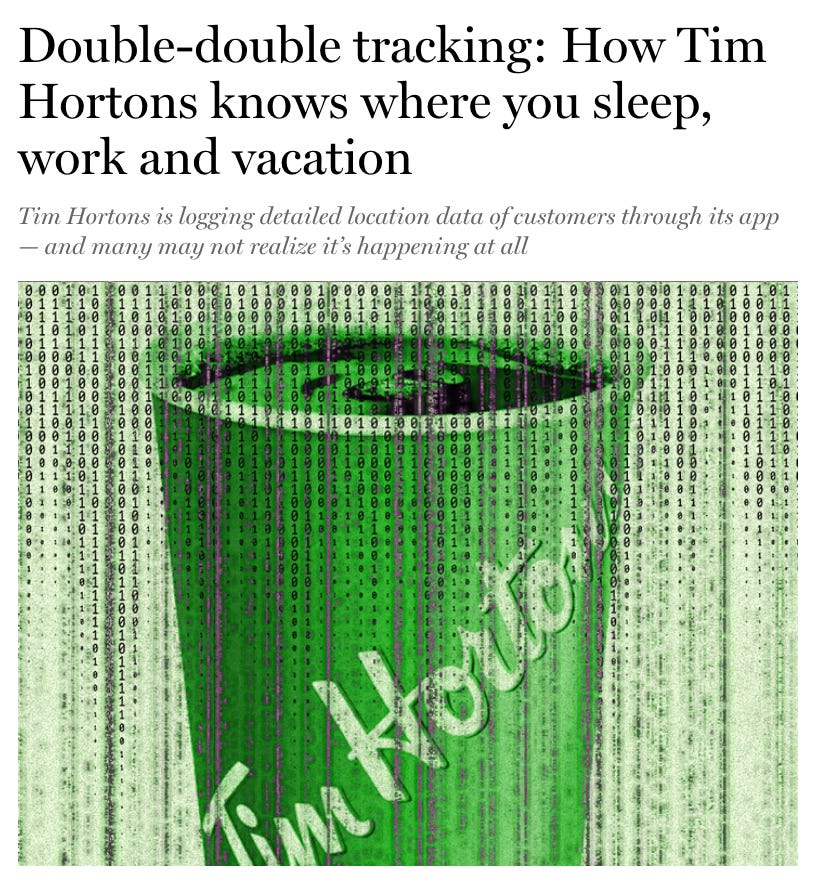 A culture of permission-less innovation has allowed rewards apps like these to quietly flourish. Because they harness the data for themselves rather than sell it on shady secondary markets, perhaps they receive less scrutiny. From a competition perspective, it is concerning to consider how these firms can and are using the data for themselves. Will users of the app contact the Privacy Commissioner or delete the app?
*I am personally *obsessed* with the manipulation of consumerism through simple gamification. I'm also fixated on my Optimum points and "special offers," "just for me". It's sad, and fascinating.
**Below is a Walrus Talk I gave last fall on the "Dark Side of Rewards Programs." It has a t-ball like vibes (too tall for the podium = a familiar feeling) and I'm sweating - but policy land is messy and so is keynoting.
*Transcript here.
Other [Canadian] firms where I'd love to look under the hood to see how they leverage user data to create weird little competitive advantages:
What am I missing?
---
📚 legislative pages: ghost road 👻
I haven't finished reading this just yet, but I am really enjoying this new book from Anthony Townsend, who is challenging and helping us to demand a more human-focussed future as it relates to the implications of autonomous vehicles. Get a copy and then we can talk about it?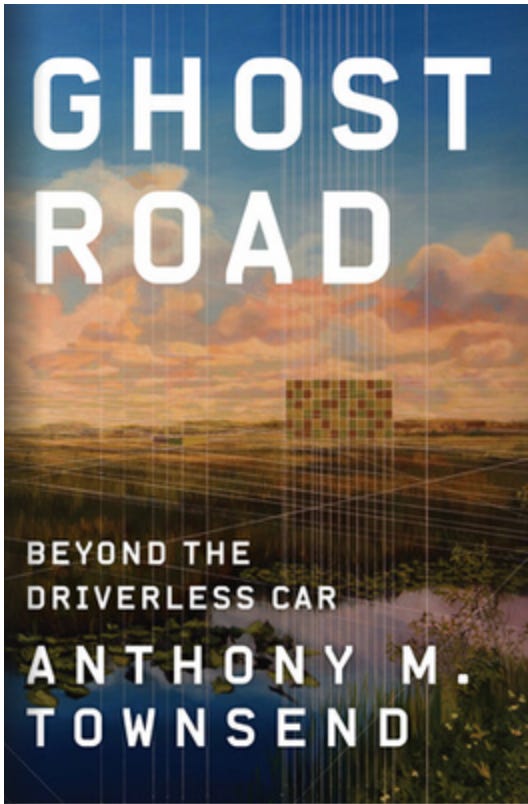 For decades we have tried to build a car that will drive itself. Anthony M. Townsend's Ghost Road argues convincingly that the driverless car is a red herring. When self-driving technology infects buses, bikes, delivery vans, and even buildings, a wild, woollier, future awaits.

Technology will transform life behind the wheel into a hi-def video game that makes our ride safer, smoother, and more efficient. Meanwhile, autonomous vehicles will turbocharge our appetite for the instant delivery of goods, making the future as much about moving stuff as it is about moving people. For-profit companies will link the automated machines that move us to the cloud, raising concerns about mobility monopolies and the privatization of "the curb." Our cities and towns will change as we embrace new ways to get around.

Ghost Road explains where we might be headed together in driverless vehicles, and the choices we must make as societies and individuals to shape that future.
---
🌟 advertisers + data ethics principles (?)
Adjacent to conversations around consent and selling data (data brokers) are considerations related to cookies and targeted advertising - the bane of our hyper-individualized digital experiences.
Recently, the World Federation of Advertisers (a trade industry group) launched the world's first guide for brands on data ethics in advertising, designed to provide clear actions and practical guidance to some of the world's biggest companies.
These data ethics principles could be a sign of things to come, especially as consumers push for more accountability and transparency.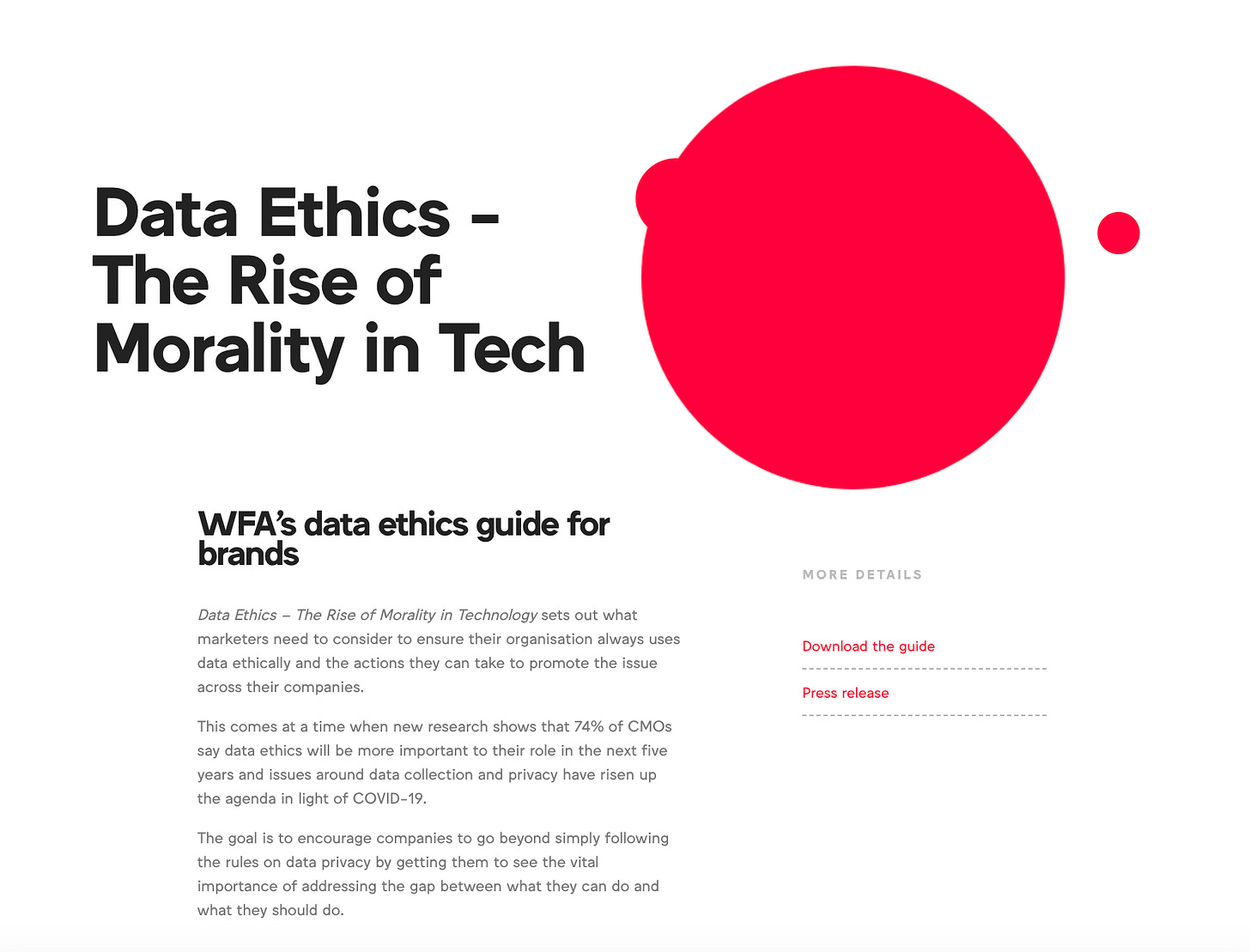 It feels easy to blame marketers for the normalization of hyper-micro-targeting, but I guess they are just doing their job with the best possible tools available. Building more capacity among marketers to be good data stewards is a savvy move. Interested to see if this sticks. The data principles proposed draw on the standard 4 themes: (1) respect (2) fairness (3) accountability (4) transparency. Download the report and let me know what you think (*I need friends!).
---
🎸tune:
Shamir
"On My Own"
I used to think that love was fleeting
You'll just end up hurt
But it's a cosmic game of meetings
That may never work and I think
Maybe I deserve a little more
And life will get easier
But I don't believe in love anymore
Don't bargain with my worth, 'cause
---

---
Vass Bednar writes "regs to riches" and is a public policy solo-preneur. She recently started teaching a new MPP elective at the Munk School of Global Affairs and Public Policy onTopics in Public Policy and Technology and it finished this week, ah! 👩‍🏫
She can be reached at vasiliki.bednar@gmail.com or follow her (er, me) on Twitter @VassB.
Archives available via regstoriches.substack.com