Discover more from regs to riches
Regulatory hacking in Canada by Vass Bednar w/ friends.
Over 2,000 subscribers
#18
get off my properly
This is a newsletter about regulatory hacking featuring (mostly) Canadian startups.
Every week, I contextualize a Canadian start up in the legislative landscape.
Because all start-ups need a policy strategy to succeed
.
🏠 company:

 

properly 



🔖 

short read

:

 Words Matter: How Tech Media Helped Write Gig Companies into Existence



📚 

long read:

 

New Money: How payment became social media 



🔭 

space:

 

a sea can

  

🎶 

tune: harlem river
---
Let's consider the growth in property tech or "PropTech."
New to Toronto is Properly, which aims to represent clients as they sell one property and seek to purchase another - bridging a terrifying financial and logistical gap.
Technically a real estate brokerage, a core aspect of their offering is that they aim to represent you during two transactions: selling your home, and buying a new one. They'll cover your mortgage payments in-between, too.
Properly offers services in Calgary, Toronto, and Ottawa. It's worth noting that being limited to these cities prevents end-to-end support of people fleeing urban centres - Properly helps you move up, but not away [unless they only rep you as a seller].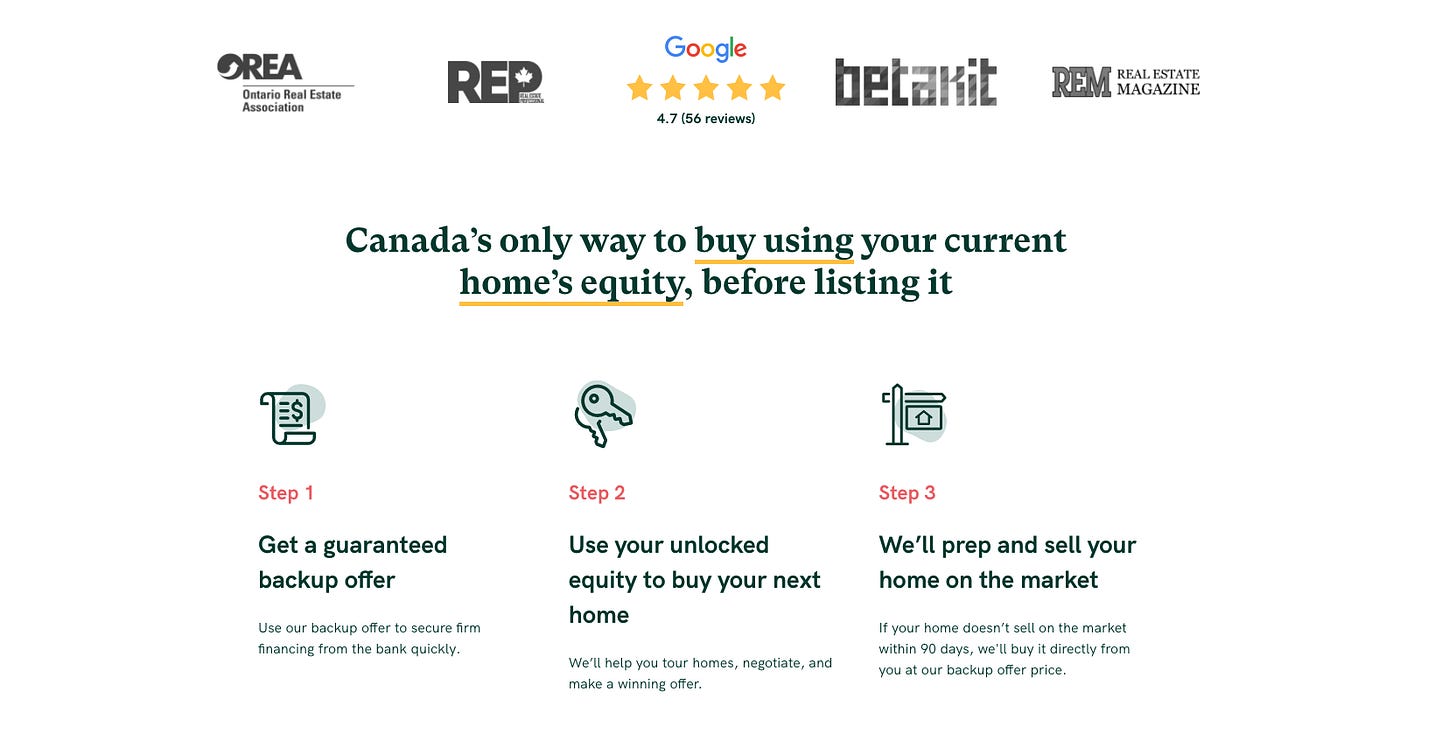 There *is* another way to buy using your current home's equity, before listing it. That is a home equity line of credit (HELOC). Another traditional banking product is a bridge loan, which is a temporary financing option. In order to be eligible for a bridge loan, you need to have a firm sale agreement in place on your current home. Again, both of these activities are somewhat disconnected from the activity of buying or selling (AKA not full-service to get you from one house to the next). Properly seems to be building some useful connective tissue across these tasks.
The offering may also solve for the challenges that self-employed or un-employed persons may currently have in accessing a bridge loan or HELOC. Banks are still most comfortable with standard work, while these startups seem to be solving for pain points with the broader home buying/selling ~experience.~
*The firms's FAQ contrasts their offering with a bridge loan.
I'm intrigued by Properly's brokerage + bank approach (with CIBC). It's a sneaky + savvy way to provide a product [the bridge loan] that is typically a financial service.
The target audience seems to be people that are already in the housing market and are looking to transition. Pretty niche.
One subversion of the property market that Properly raises is the application of an algorithm to
And, I'm surprised that real estate hasn't seen more "disruption" from tech, as it seems obvious that a "middleman" (the real estate agent/broker) could be made redundant. Turns out that people might like support from a human during a huge and deeply personal purchasing process. That said, there's still significant space to revolutionize real estate transactions - like agents offering a flat fee instead of a percentage, etc.
🏡 A few others in the PropTech space:
Regs to Riches in PropTech: Real Estate agents are licensed provincially, so for a company to scale and be national you'd need to hold multiple licenses or have representation in *every* province.
*None of these start ups successfully address the limiting factor in home buying, which is that access to family wealth is the primary differentiator among first-time homebuyers. 🤷
---
This new working paper from Sam Harnett is 15 pages and well-worth the read in order to appreciate how important healthy criticism of tech (of all kinds, not just Big, is). Beware the dazzle! Sam reports on how technology and capitalism are changing the way we think about ourselves and what it means to work.
Abstract:
When companies like Uber and TaskRabbit appeared in Silicon Valley, there was a collective media swoon over these new app-based service-delivery corporations and their products. Pundits and journalists made it seem like these companies were ushering in not only an inevitable future, but a desirable one. Their content helped convince the public and regulators that these businesses were different from existing corporations—that they were startups with innovative technology platforms designed to disrupt established firms by efficiently connecting consumers to independent, empowered gig workers. Those in the media normalized and at times generated this rhetoric and framing, which was then taken up by politicians, amplified by academics, and finally enshrined in laws that legalized the business models of these companies. The positive, uncritical coverage prevailed for years and helped pave the way for a handful of companies that represent a tiny fraction of the economy to have an outsized impact on law, mainstream corporate practices, and the way we think about work. The force that powered the swoon was a relatively new and journalistically problematic trend in media: "tech" reporting.
Critical technology reporting like The Information, The Markup, The Logic, Re/code, The Verge.
Can you think of any big Canadian companies that receive positive, uncritical coverage? I can! 😉
---
Some social networks are offering new forms of financial services - just like a bunch of those real estate start ups. 😉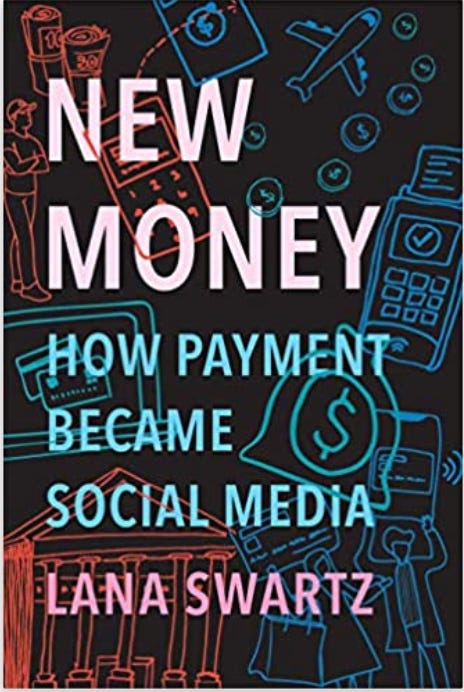 Or, like the Libra Association. Here's the Bank of Canada's page on Digital Currencies and Fintech.
*TBH I am not totally finished reading this yet (!) and just wanted to flag it.
Below is a lecture from Lana on the book. 👇
PS. The electronic version of this book is $35 (wtf!).
---
space: an arctic greenhouse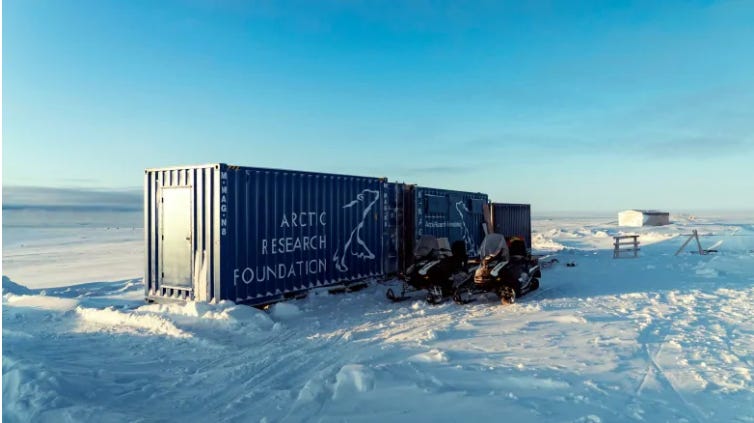 The Canada Space Agency is practicing growing food in the Arctic as prep for space. They call that shipping container a "space can," which I think is the best phrase I've heard in a while.
The greenhouse, called the Nuarvik Food Production facility, is in Gjoa Haven, about 250km above the Arctic Circle, and is set to begin production in 2025.
---
Harlem River talk to me
Where are we headed now?
Harlem River I'm in love, love, love, love
All because of you

In my pearl and my diamond shoes
I climbed a cloud, now I stole the moon
Harlem River
All because of you
---

---
Vass Bednar writes "regs to riches" and is a public policy entrepreneur.
She can be reached at vasiliki.bednar@gmail.com or follow her (er, me) on Twitter @VassB.
Archives available via regstoriches.substack.com