Discover more from regs to riches
Regulatory hacking in Canada by Vass Bednar w/ friends.
Over 2,000 subscribers
#19
happy hour for death tech
This is a newsletter about regulatory hacking featuring (mostly) Canadian startups.
Every week, I contextualize a Canadian start up in the legislative landscape.
Because all start-ups need a policy strategy to succeed
.
👔 company: eirene 

⚱️ let's learn: how death is regulated [in Ontario]

🔭 space: special drone deliveries 

📚 read: Happy Hour    

🎶 tune: Aldous Harding - The Barrel 
---
🔦 spotlight:
Eirene
Now that our closets have been organized, maybe it's time to plan for the end of our lives.
I'm being glib. But for some, it may be satisfying or comforting to plan ahead and get a handle on some of the administrative details of death. For instance, I enjoyed updating my Will after I got married (thanks, Willful). It felt like an act of care that would make it easier for my loved ones to deal if a piano falls on my head.
More seriously, the cost of a funeral can be a barrier to families and some suffer from what is referred to as "funeral poverty." In Ontario, the Ministry of Community and Social Services covered the cost of a funeral - budgeted at a guideline amount of $2,250 - for low-income people who received welfare or disability benefits. The industry also suffers from a general lack of pricing transparency, which can lead to uncertainty and unpredictability. Not cool.
In Canada, death services is a $1.6 billion industry, according to a report by the Toronto Star. The same study found that Ontarians invested approximately $2 billion in funeral arrangements.
In Canada, cremations are much more common than burials. Canada's cremation rate was 73.1 per cent in 2019, according to the Cremation Association of North America (yes, it exists).
Eirene is a "direct cremation technology platform" that offers and online experience to support the planning of a cremation (you can even pay online). They charge $2,500 for a direct cremation, which is about half of the industry standard.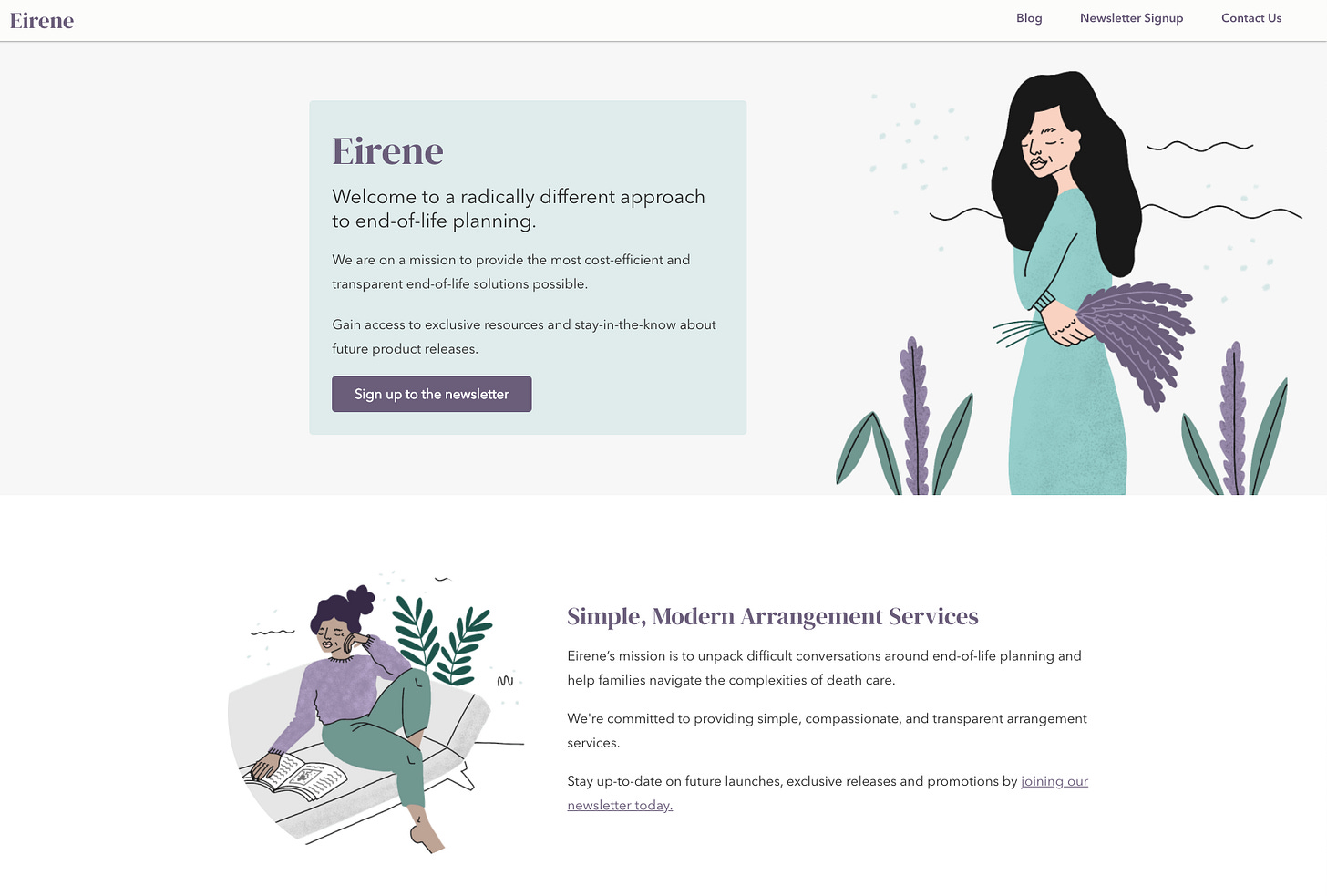 The catch? Eirene uses third-party licensed providers to transfer and store the deceased and cremate the remains. That may be slightly out of step with the current legislation that governs cremations, etc. Which brings us to an important question - how should this company interact with government at this early stage, and how should regulators consider making space for Eirene; if they even should at all?
Here are some options:
If you want to stretch your policy + startup brain, consider this Digital Policy Model Canvas from the National Digital Policy Network of the World Economic Forum (2017).
---
💀 hold up, *how* is death regulated?
In 2016, the Bereavement Authority of Ontario (BAO) became a delegated authority on behalf of the Ministry of Government and Consumer Services. The BAO is the agency that regulates the province's funeral homes, crematoriums and cemeteries under the Funeral, Burial and Cremation Services Act, 2002, S.O. 2002, c. 33.
The BAO is wholly financed by the fees paid by the industry sector it oversees, which may inadvertently incentivize it to discourage competition and instead favour repetition/replication across many smaller actors (read: more fees).
Early in the pandemic it seemed like the BAO condoned passing costs onto funeral directors, and it seems the agency is not a fan of a new body disposal technique: low-heat alkaline hydrolysis. Check out the Alkaline Hydrolysis Coalition of Ontario to learn more about that (Coles Notes: it's greener than cremation).
🏢 regs to riches 💰
There's been more experimentation with and exemptions for death tech - specifically, more environmentally-friendly alternatives to cremation - in the US. Some of the legislative updates were requested by death-tech companies. For instance, in 2017 California re-wrote its cremation law when nudged by alkaline hydrolysis startup Qico, who later received $1.6M in tax credits. In May, Washington became the first state to legalize human composting.
Other death tech firms:
you might even day these firms are greening the innovation economy.
Read more:
Most state disposition laws are antiquated, premised on narrow definitions of "cremation" and "burial" that leave new technologies like promession without the legal grounds to establish themselves. But a few states—Kansas among them—have seized the opportunity. In a bid to attract death-tech companies, and perhaps a piece of the $2 billion fire cremation industry, they've been revamping regulations.
---
🛸 space: drone delivery
You can read the USA's Federal Aviation Administration (FAA)'s page on Package Delivery by Drone here. It means that Amazon can start testing and scaling its Prime Air program for delivering lightweight packages.
I guess my hottest take is that for all the things people don't want in the "backyards," there hasn't seemed to be vocal opposition to this process. How should we refer to the airspace overhead, or do we not care because
convenience is king
?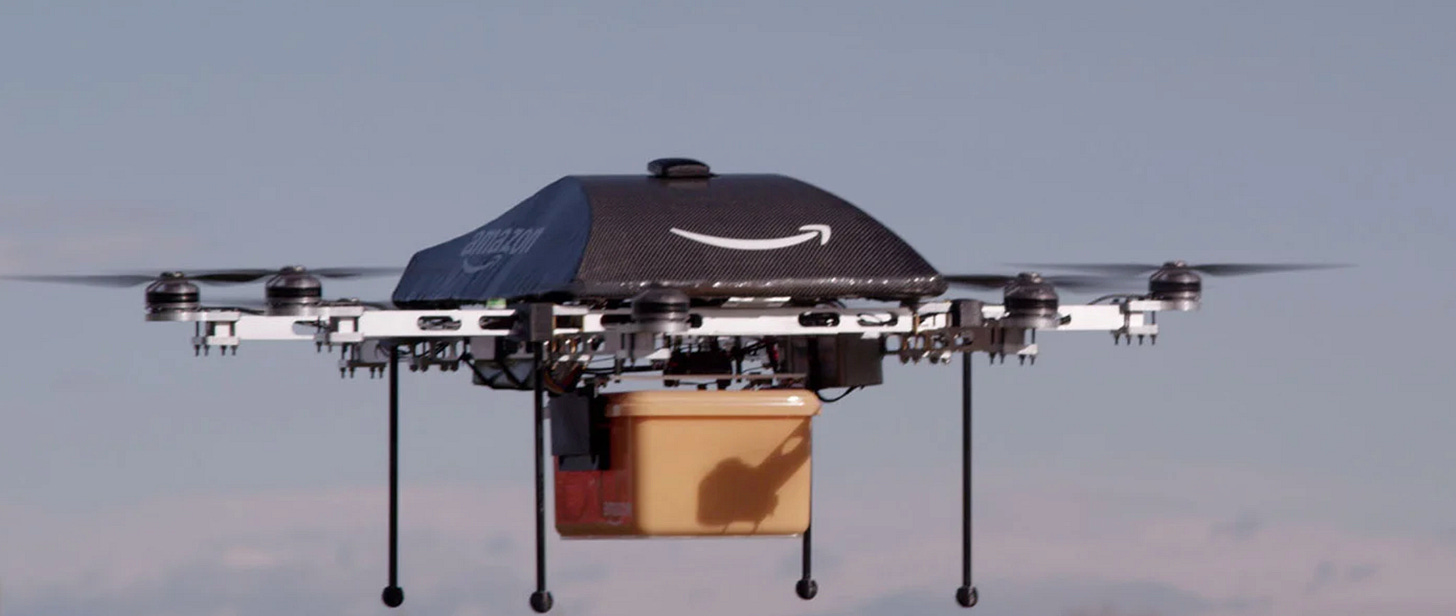 Here in the Great White North, at the end of July, Drone Delivery Canada announced a commercial agreement with Georgina Island First Nation for a COVID-19 project.
---
Happy Hour if the very first book from new indie publisher Flying Books. It is…not a public policy or start up book. It IS a good chaser to a regulatory walk-through of dying, though.
Author and filmmaker Marlowe Granados offers a young protagonist that is self-aware and self-assured w/o being self conscious, hurtling through an effervescent summer. Reading it is like having a litre of ginger kombucha all to yourself in one sitting.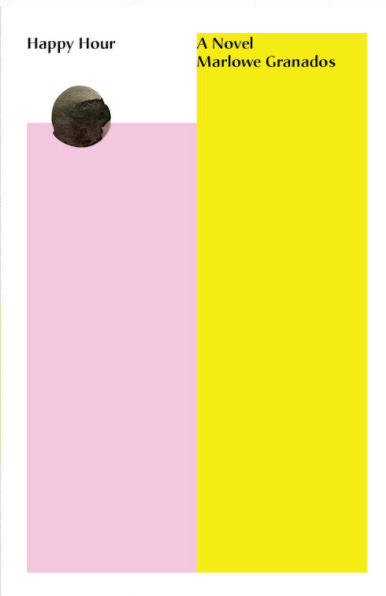 This novel made me wistful for a sweet, sweaty and uncertain summer in my 20s (who doesn't need a 2013 throwback right now?). When things are messy and fluid and you're *sort of* a person but not really yet. "Happy Hour" is vivid and energetic, and forced me to reflect on the process of sense-making as a younger person while you collide with others in social settings (remember that?). How do you introduce yourself when you're just starting out, dreaming and wondering? Also…does anyone have parties anymore?
Most of all, I adore and admire Isa's radical participation in glamour. It reminded me of something my Kastorian grandfather encourages me to do - "Enjoy your life." 🍷
*The book launches online September 8th and there is also an event at the Toronto Public Library on September 9th.
---
New Zealand-based Aldous is strange and avant-garde and I like her songs.
Look at all the peaches 🍑
How do you celebrate?
Can't appear inside of nowhere

It's already dead
I know you have the dove
I'm not getting wet 💧
Looks like a date is set
Show the ferret to the egg
I'm not gettin' led along
---

---
Vass Bednar writes "regs to riches" and is a public policy entrepreneur.
She can be reached at vasiliki.bednar@gmail.com or follow her (er, me) on Twitter @VassB.
Archives available via regstoriches.substack.com