Discover more from regs to riches
Regulatory hacking in Canada by Vass Bednar w/ friends.
Over 2,000 subscribers
#2
getting our period panties in a twist
Hey - this is a super surreal time. 

I don't mean to send you something that doesn't acknowledge the uncertainty or anxiety that you may be feeling - and I'll say that I am ~definitely~ feeling it. 

It [*sort of*] calms me to "just keep swimming" and push forward, experimenting in the background as we social distance and gaze lazily at our towers of toilet paper, hoping for a glimmer of confidence. 

In the interim, I welcome your feedback and I'm glad to have you as a beta reader. On this end, I'm not promoting this widely yet, and may not for a while. 

And if you are automatically archiving - omg, totally get it!

And of you aren't - Jon Shell has a great Medium post - 

9 Things Canadian Governments Can Do to Avoid a "Social Distancing" Economic Tragedy

.
---
A helpful suggestion from fellow beta reader *James [not a pseudonym!] - he'd like a little bit of Table of Contents (ToC) action up front. James, this Bud's for you:
💡 Quick case study of a 🇨🇦 company's policy opportunities - Knix! 👙

🏆 Shouting out policy leadership from tech firms. 🎖️

📚 Legislative pages = book time. This week it's a work of fiction that involves zombies. 🧟

🚀 Space policy - Getting galactic to the moon + back 🛰️

I'm not loving all the emojis, but I am taking it one day at a time.
---
💡
case study: knix
ICYMI, knix has a change.org petition to get period panties regulated - you should sign it!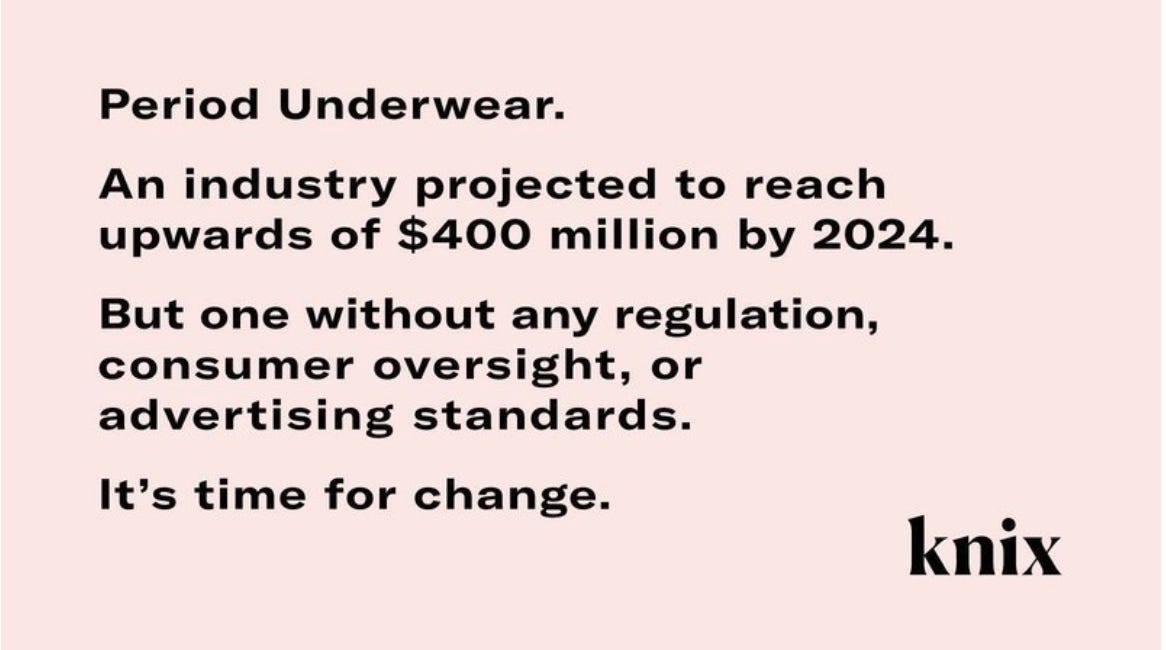 I like knix's products a lot (shout out to thigh savers!), and admire that the company is demonstrating policy leadership and advocating for better consumer protection in the industry. After reading this white paper, it seems like a no-brainer.

From a business perspective, this makes a lot of sense, too - there have been a lot of new entrants to the market that each make various claims about being "leakproof" but there's no way to verify or standardize that. Plus, it's a pretty porous area of the bod to be putting harmful chemicals near.

Knix started pioneering this new kind of intimate ~7 years ago in 2013, but I don't think we should be concerned that it's taken them this long to ask for better regulation of the industry. I mean, how often do companies call for regulation, anyways? We should also be asking ourselves (as policymakers) how we should or could have responded to this new product to ensure that is is safe.
Hold up: is knix a start up? I say: yes! It's a scrappy, growing company that started as online-only.
So, their petition targets the Consumer Product Safety Commission, which is a U.S. government agency, to demand stronger regulations for all period underwear.
In an interview with Fast Company, knix CEO Joanna Griffiths proposed two potential avenues for regulation:
First, a third-party institution, like a university, could establish guidelines about what constitutes safety when it comes to period underwear, and then independently certify the safety of products. 

Secondly, brands could ask to be included in regulations relating to the wider period-product category.
Griffiths also makes the case that it would be beneficial for third parties to verify marketing claims that period underwear brands make, but she doesn't clarify which third parties those would be. Do you have any sense?

For the time being, many brands promise their products are "leak proof," "stain resistant," "anti-microbial," or "anti-odor" but they don't need to back up their claims with any verification, or explain what ingredients or materials they are using to imbue their products with these features.
What would it take - at least in Canada - to make this regulatory conversation more sophisticated and set a clear standard? Initial conversations with a range of bodies:
With knix,

regs

offer

riches

because they will help differentiate the company's products from harmful wannabes.
PS. If you're feeling fired up about consumer protection, the provincial government recently announced Consultations to Update the Consumer Protection Act - legislation that hasn't been reviewed in 15 years. You can complete the online survey at ontario.ca/ConsumerReview or sign up to participate in future consultations by emailing consumerpolicy@ontario.ca.
---
🏆
policy leader(s) - classpass + CMHC
There have been cheers in the Twittersphere after Amazon suspended the accounts of people that have been profiteering from reselling toilet paper, hand sanitizer, and cleaning wipes. Many other major platforms have made similar announcements:
This week, Classpass gets a shout out for doing the right thing, quickly. Waiving cancellation fees and rolling over credits are simple (but expensive *for them) consumer-focused changes that will help prevent people from rushing to work out during this new era of social distancing.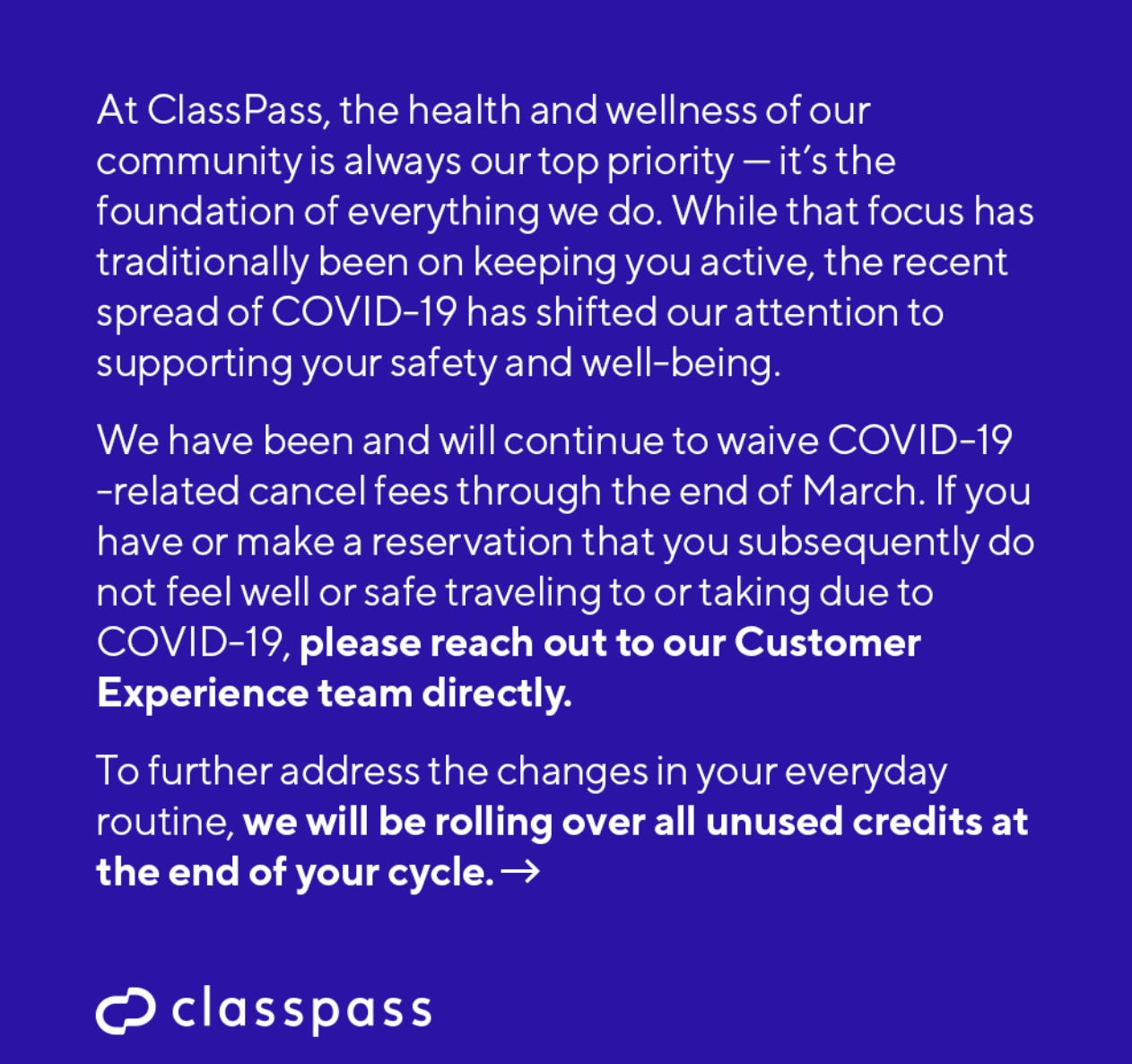 Back in Canada, the Canadian Mortgage and Housing Corporation (Canada's National Housing Agency) championed collaborating with mortgage professionals in order to deal with any potential mortgage payment difficulties.
It will be interesting to understand what the uptake on this proposal winds up looking like, and whether mortgage deferrals were a financial lifeline in 2020. I am also curious to know how they are promoting this option, and whether mortgage brokers will be proactively advising on this option. Flagging for future follow-up.
---
📚
zombie brains
This week, the read isn't about tech directly but instead: pandemics. My suggestion is to (re?) read World War Z: An Oral History of the Zombie War by American author Max Brooks (2006) as it's a pretty excellent policy book, even though it's comedic fiction. Here's a recent interview with him.
The novel is a collection of individual accounts narrated by an agent of the United Nations Postwar Commission, following the devastating global conflict against the zombie plague.
WWZ offers political satire that made me think more deeply about how we share information and what our news sources are, especially in times of crisis. In the book, different countries respond….in unique ways For instance, one country's economy does very well because they quickly remove everyone's teeth. Can you guess which one?
The zombie plague starts as all plagues tend to—slow and steady. China has a mild outbreak of zombie that spreads out into the world through various routes: refugees, black market organs, human trafficking, and the undead simply shuffling about. Many countries ignore the news of the dead rising up from the grave with a ravenous hunger for human flesh (does this sound familiar?), but others, such as Israel, take the threat seriously and begin zombie-proofing their borders.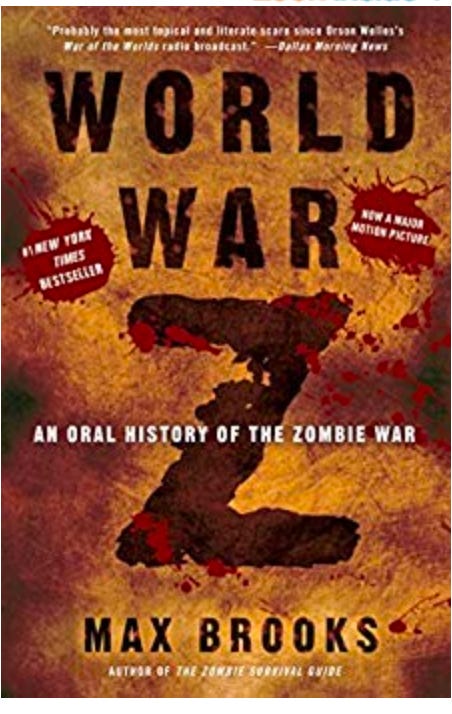 Sadly, WWZ was left out of this list of "essential" Pandemic reading.
*Max has a new book coming out in May that you can pre-order: Devolution: A Firsthand Account of the Rainier Sasquatch Massacre.
---
🚀
space policy
You can see the impact of coronavirus from space thanks to this company: Orbital Insight. Also, astronauts are taking precautions to keep coronavirus from spreading to space (someone's gotta). BTW, does anyone remember consenting to being surveilled by unmanned aerial vehicle images?
The United Nations' Committee on the Peaceful Uses of Outer Space (COPUOS) has cancelled the meeting of its legal subcommittee in Vienna that was set to happen. What a rad committee.
What else? Please see my new favourite website: spacepolicyonline.com. Last week I asked you about the Lunar Gateway. Well, guess what? The Gateway is No Longer Mandatory for 2024 Moon Landing!
---
Alex Cameron wrote the latest "Killers" single, so I am including it.

This is my MVP of a weekly read on startups and public policy [mostly] in Canada. If you are reading it, you may be a BETA reader (thanks!).
Send me your thoughts on how it can be improved so that it's more relevant to you.