Discover more from regs to riches
That one simple trick to make the economy work better.
Over 2,000 subscribers
#25
sub text here
👋 Welcome new subscribers!
This is a newsletter about Canadian startups and public policy. I'm going to do my best to alternate between the traditional format of "regs" (which is the below) and longer-form writing. But guess what? NO PRESSURE.
spotlight:

 

Safen Labs
report:

 

Good Intentions, Bad Inventions 
what if?

 Politics without politicians 
book:

 

New Laws of Robotics - Defending Human Expertise in the Age of AI
tune:

 

jennifer castle

 - justice 
📈 R2R readers may enjoy
The Peak
- it's like a "
Morning Brew
" for Canada – they take the top 4-5 business, finance and tech stories and write them in a conversational tone every day. It's something you can scroll through when you're still in bed and get oriented for the day.
---
SAFEN is an intelligent risk assessment tool that was created by leading epidemiologists in Canada on the basis of published clinical COVID-19 data.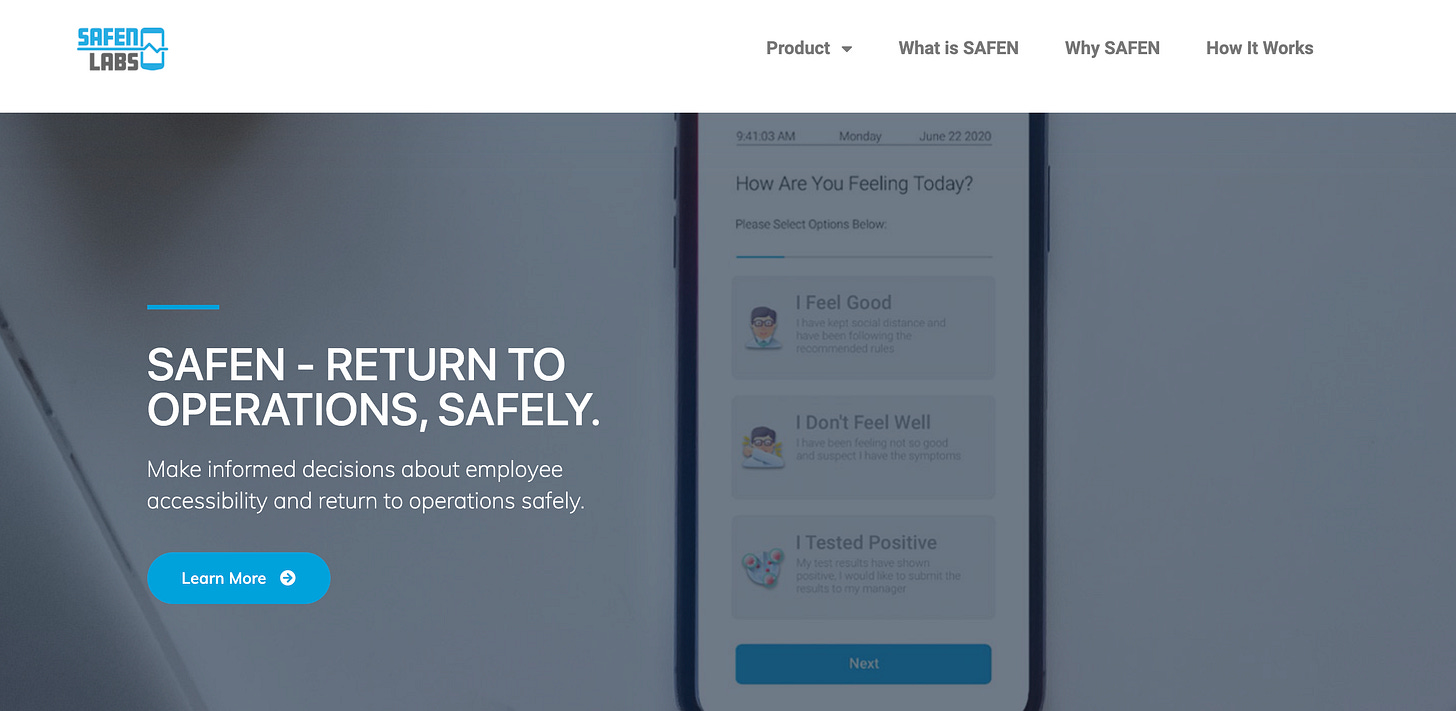 It sounds pretty good upon a first read.
The app develops a sophisticated algorithm based on a self-answered questionnaire along with going one step further by measuring key vital signs like heart rate and oxygen saturation levels (SpO2), which have proven to be key indicators of detecting COVID-19. We have partnered with Binah.ai, an Israeli company, which uses artificial intelligence to scan your vital signs by simply using your smartphone's camera. 

Our main goal is to create a safer environment for all by the minimizing the risk of spreading COVID-19. We want to make sure that everyone takes SAFEN's quick self-screening test, which takes 30-90 seconds prior to leaving home. 

Let us help minimize the spread of COVID-19 together and create a safer environment for all using SAFEN.
A notable dimension of Montreal-based Safen is the role of scientists in the genesis of the app. This could be read as a source of legitimacy for what it does (or tries to do). I'm thinking about that effect with Maple. Doctors? Must be good!
🤷 What does it do?
The app supports employees of a particular firm to self-screen "at home in a way that goes beyond taking temperature." The app "extracts" vital signs with state-of-the-art facial recognition and "uncomplicated" data collection - it SCANS YOUR FACE!
My vitals while reading that were off the chart.
The app presents as being harmless and helpful - totally dedicated to protecting the health and safety of employees.
To my mind, it seems like app might need a little bit of help from us to train its algorithm - i.e. individuals are sharing vitals and then confirming COVID positivity - the app isn't predicting the likelihood of exposure or sickness.
🤷 What workplaces would think this is cool or appropriate?
Probably anywhere where trust is low, and/or there is physical work that cannot be done remotely (e.g. manufacturing or service work). It's a good reminder that it feels uncertain re: what agency people have with these tools and how the pressures of precarious work could prevent them from rejecting it.
🤷 How does it make money?
The application is free for the individual, and the employer or "organization" pays for it. The employer gets access to a dashboard.
When you select "I tested positive for COVID-19", your account will be locked. In order to unlock your account, you will need to contact the Organization.
So you need to contact your employer after you test positive? Ha.
🤷 What is it?
I don't really know - it's "just an app," or "remote health monitoring system."
The Terms of Service serve up the ol' "not a medical device," which we will see from so much health tech [Amazon's halo, anyone?]. "Not" being a medical device (or a "medical diagnostic tool") allows these companies to bypass Health Canada's scrutiny.
The Food and Drugs Act defines a medical device as "any article, instrument, apparatus or contrivance, including any component, part or accessory thereof, manufactured, sold or represented for use" in the medical treatment of human beings.
It is "merely a risk factor assessment tool."
"not a medical device" is the "we are just a platform" for 2020.
Here (or there?) is the guidance document on software as a medical device.
Look, you can self-screen without an app, or even take your own temperature. Weird tech under the guise of protecting us it just a big biometric data grab. I think about who may have a harder time saying "no" to this when the big boss implements.
*They published spon-con in the National Post!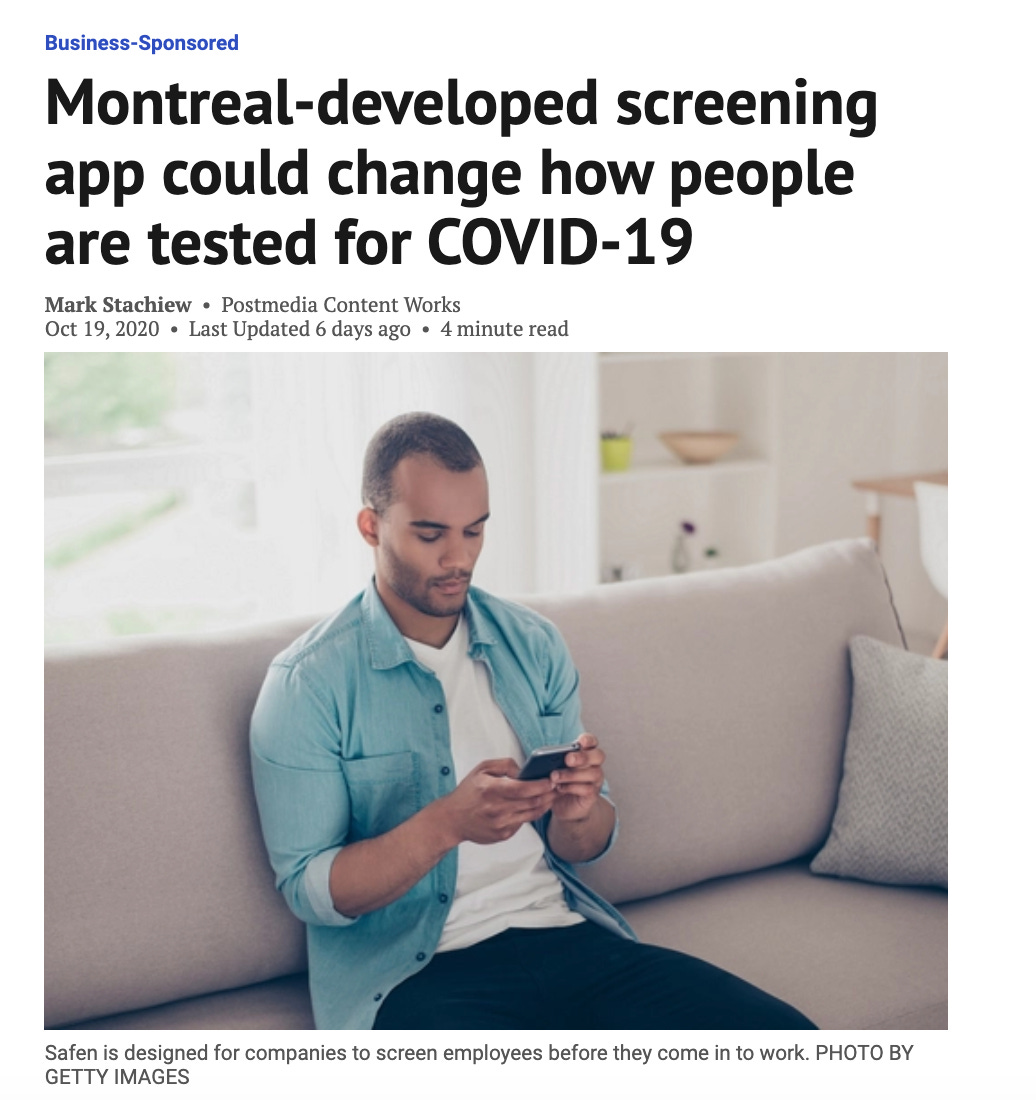 PS. Here's what the Canadian Civil Liberties Association (CCLA) had to say about Canada's contact tracing app.
🏢 
regs
By "not" being a medical devices, apps can do whatever - no standards or oversight.
💰
riches
Collecting your face scan and other data creates a rich dataset to train Safen's AI and perhaps publish research.

Companies are nervous about back-to-work and want to invest in the best practices and mechanisms to protect their employees and customers.
🏥 let's play: medical device, or "not" a medical device?
A digital thermometer 👍

Fitbit 🚫

A pulse oximeter 👍

Canada's contact tracing app 🚫

Period panties 🚫

Current Health's AI wearable that measures multiple vital signs 👍
Given that COVID-19 may be
setting the stage for a Canadian health tech boom
, maybe we need to consider a new threshold for wearables that are "NOT medical devices."
To that end, in December 2008, a 14-member Citizen's Reference Panel on Health Technologies (CRPHT) was established to inform the work of the Medical Advisory Secretariat (MAS) and the Ontario Health Technology Advisory Committee (OHTAC), which produces evidence-based recommendations regarding the use of health technologies throughout Ontario's health system.
+ Here is the Government of Canada's webpage re: Authorized medical devices for uses related to COVID-19.
*This part of the website made me laugh. #subtexthere

---
I appreciated this recent report from data + society, and not just for the brave use of neon green.
Good Intentions, Bad Inventions by Amanda Lenhart and Kellie Owens dispels common myths about our relationship to technology in order to champion evidence-based narratives that reinforce agency and equity, not control and addiction.
The myths are:
Social media is addictive, and we are powerless to resist it;

Technology companies can fix the problems they create with better technology;

Growth and engagement metrics are the best drivers of decision-making at tech companies;

Our health and well-being depend on spending less time with screens and social media platforms.
---
🤡 what if: Politics without politicians
Last week I had the honour + thrill of thinking out loud and on my feet (actually, my butt as I was seated) on TVO's The Agenda. The show asked whether and how we could use technology like civic lotteries and crowdsourcing to better equip our elected officials to effectively represent us.
I don't think that AI should (or could?) replace them, but there may be instances where it can complement and supplement traditional tools and I am all for that.
*Then again, when they take away the ability for municipalities to experiment with ranked ballots I sort of want to replace them with an AI. Here's a petition you can sign about that.
---
📕 book:
New Laws of Robotics
Earlier I wrote about my anxiety re: technological unemployment, including my cool take that personal trainers are being displaced by tech.
Frank Pasquale (@FrankPasquale) has a new book out that I am stoked to read - all about defending human expertise in the age of AI.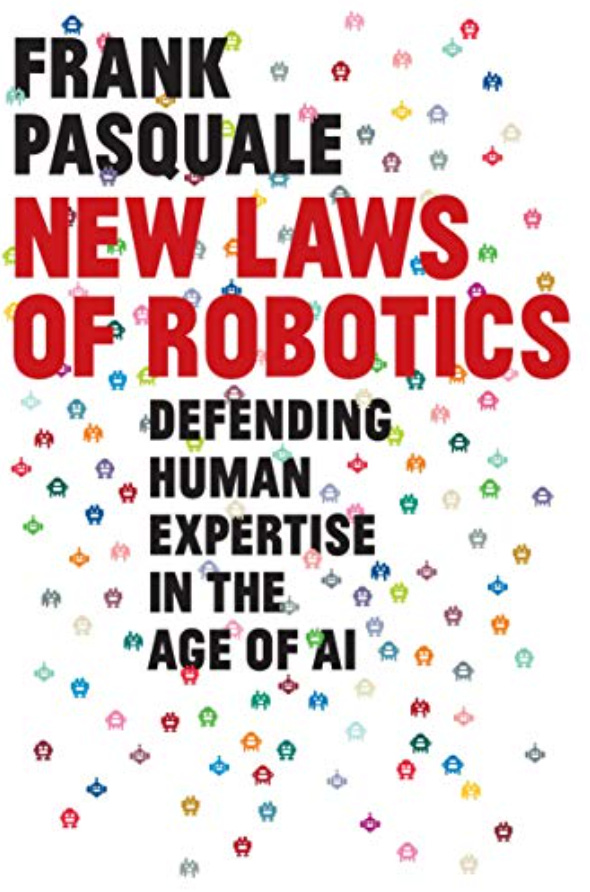 The book takes an optimistic view of the applications of AI in the workplace and characterizes it as being fundamentally complementary and enhancing to a lot of the work that we do. Like, maybe it will help politicians more effectively represent and engage with citizens, or something.
🗞️ The Guardian published an excerpt from the book - "Machines set loose to slaughter" - the dangerous rise of military AI.
---

*Honestly this is actually my 37th newsletter but due to my questionable labelling system, it appears to be the 25th.
🤓 Vass Bednar is a smart generalist working at the intersection of technology and public policy.