Discover more from regs to riches
Regulatory hacking in Canada by Vass Bednar w/ friends.
Over 2,000 subscribers
#3
lurking near open tables
This is a newsletter about
regulatory hacking
featuring (mostly) Canadian startups.
Why? Early stage companies are super under-serviced by policymakers, and we typically talk about regulating tech when companies are
already
fairly sophisticated. That means a lot of firms are left out, and left behind.
The hard truth is that policy realities may inhibit companies from scaling (or even existing) in the first place. That's why
all
start-ups need a regulatory strategy to succeed
.
Most of all, we need more startups to embed policy thinking into their product design processes, and more policymakers to take an entrepreneurial, experimental approach.
Archives available via regstoriches.substack.com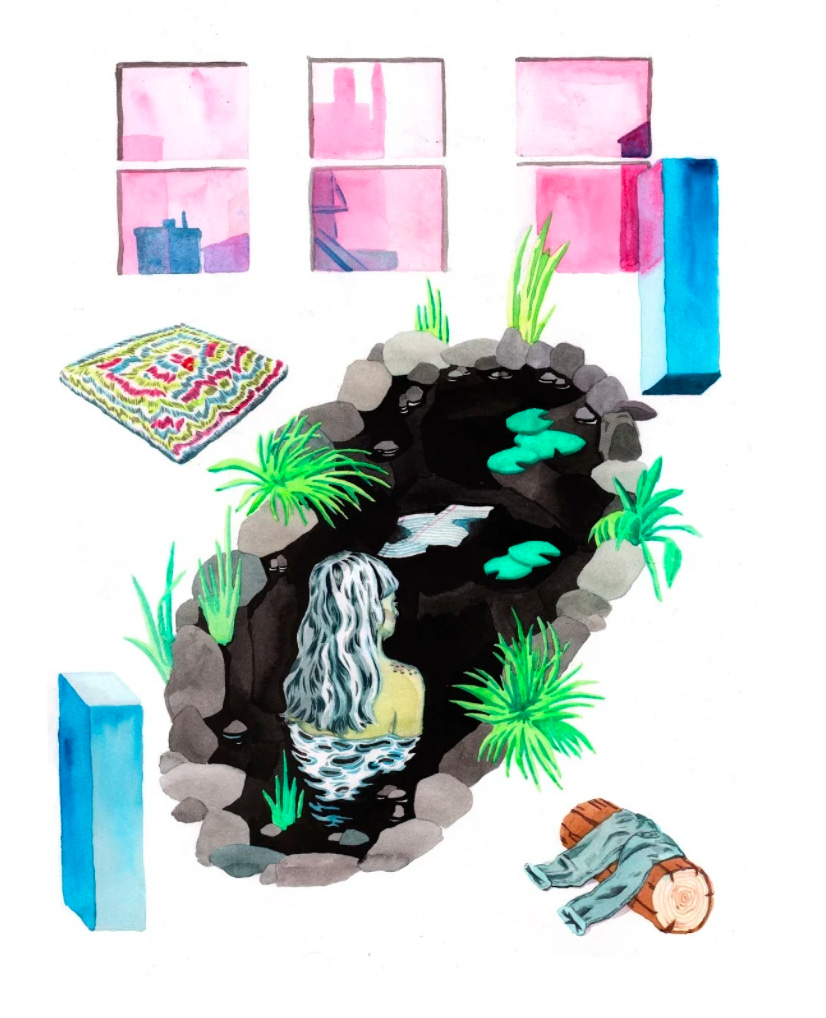 Beautiful risograph illustration by Toronto artist, Julia Dickens
Case Study

: 

Lilia

  



Policy Leadership

: 

Open Table's Data Centre 





Setting Money on Fire

: 

Canada's Plan to Mobilize Industry to fight COVID-19





Legislative Pages

: 

Lurking: How a Person Became a User

 



Space Policy

: 

A New Space Strategy for Canada





Tune

: 

Papooz - Good Times on Earth 
case study
This week, I take a look at all 11 Canadian companies in Y Combinator's Winter 2020 Demo Day [there are 16 in total, but five of them are not currently being publicized and are considered "off-the-record." ] After briefly explaining the goal(s) of the companies, I discuss what "regs" are connected to their "riches." As part of my experiment with this newsletter, that content is going to be for paying subscribers, but you can start a trial and let me know what you think.
What is Y Combinator?
Y Combinator ("YC") created a new model for funding early stage startups. Twice a year, the incubator moves these nascent companies to Silicon Valley for 3 months, during which the firm works intensely with them to get the company into the best possible shape and refine their pitch to investors. Since 2005, they've funded over 2,000 startups.
In this edition, I'll take a deeper look at a start up that's aiming to help "more women do whatever the hell they want"," Lilia.
Lilia

 calls itself an "

egg freezing concierge.

" The company helps women figure out their fertility options and make a data-backed decision on next steps. Lilia then researches insurance coverage, lays out the process, and gives guidance on the best clinics to go to. Then the company books customers into a vetted clinic and offers on-demand support. 

Information + optionality = freedom.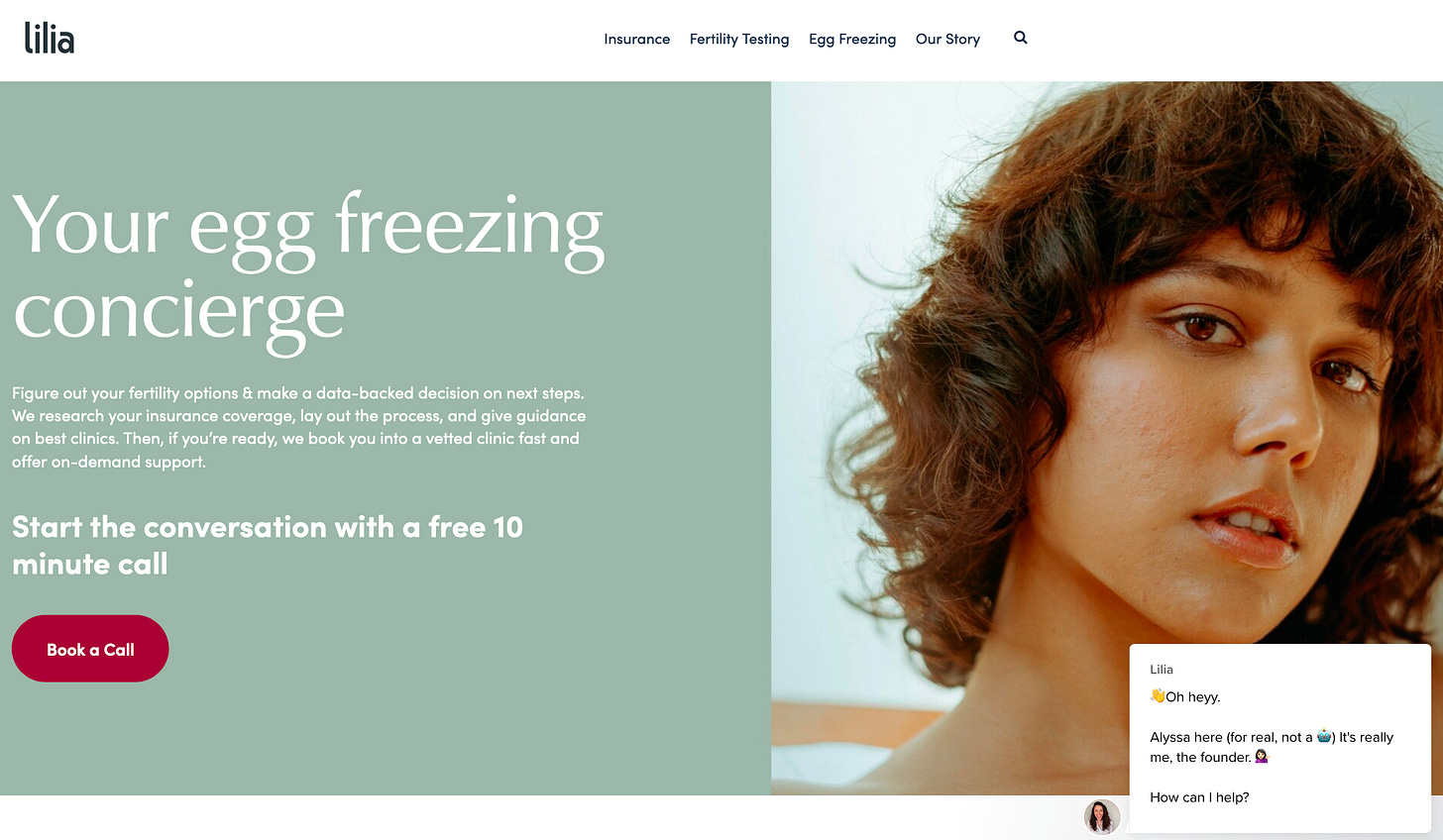 Lilia operates in a fascinating space: fertility, which is personal; government funding, which is public; and health insurance, which is private. In bridging all three, the company will create a pretty novel opportunity to challenge and inform existing government policy as it pertains to egg freezing, embryo freezing, and in-vitro fertilization (IVF).
Some say that there is unexpected freedom that comes with freezing eggs. But the act comes with no guarantees - you can't get your money back and the underlying stats are not good. Blah. Further, clinics have fairly opaque pricing schemes and don't need to report publicly on their success rates, so there's a consumer protection angle as well; and anyone who's been to a fertility clinic might have left with questions about potential privacy violations.
Ontario offers a program that provides funding to participating fertility clinics across the province to cover treatment costs for eligible residents - the wait list is just a few years long. Find out if you can receive government-funded fertility treatments and how to get started here, and learn more about what it's really like to freeze your eggs. But there's also no centralized wait list - clients are responsible for their own, and in Ontario there are 50 participating clinics. I see even more opportunities for co-ordination and efficiency here.
Lilia can go from regs to riches by reflecting and mobilizing the voices of the women who use their platform. Like, should this procedure be considered "elective" for people that are freezing proactively? Lilia's ability to price-shop on behalf of individuals could also further empower their clients. And in light of COVID-19, many fertility clinics are pausing all new cycle starts. This could cause a lot of distress for women that are making major, time-sensitive fertility decisions.
I'm excited to follow Lilia's progress. Hopefully the company will bring a more collective voice to women, and help people make—and finance—the fertility decision that's right for them.
---
policy leader
This week the spotlight goes to: OpenTable.
Their Data Center shows daily restaurant performance data that contrasts year-over-year seated diners from nearly 60,000 OpenTable restaurants, across all channels: Online, phone, and walk-in at the country, state and city levels. Bold move!
Even better: the data is aggregated and anonymized, so I have no privacy beefs.
An accompanying message from their COO asks that, as we face this pandemic, we support local restaurants, consider home delivery, and/or purchase gift cards for future use. Realistic, responsible and not alarmist - nice.
Sharing data like this will eventually help policymakers understand where and how quickly their public health guidance is taking hold (and where it's not). It also indulges a voyeuristic delight for those of us lurking on our laptops.
Earlier this year, our Chief Statistician acknowledged that we need to use more "alternate" data sources. I think this is a decent, tiny example of how we can be more integrative overall.
Of course, there are limitations to the data - you would have had to make a reservation to be captured, which suggests a coveted mix of foresight and disposable income. Plus, it's by no means exhaustive - OpenTable splits the online booking market with: Bookenda, Eat App, Eveve, Resy, TableIn, Wisely, Yelp, and other smaller players. Still, I think it's a more intriguing indicator than Google Search.
You could also argue that restaurant reservation data is somewhat segregated by class [the pandemic is widening social and economic divisions that also make the virus deadlier].
Nonetheless, it's part of a broader puzzle and private, data-driven companies can complement the traditional datasets that government(s) will rely on to track the spread of the virus and measure responses.
What other data/indicators would you like to see as we evaluate the pandemic?
Business Activity: Ritual, Starbucks mobile orders;

Fitness: Fitbit, Garmin (more steps? less steps? I roam all night every night);

Food delivery: DoorDash, UberEats;

Grocery delivery: GroceryGateway, HelloFresh, INABUGGY, Instacart;

Labour market: Linked In, Glassdoor postings, etc;

Public transit: TTC ridership data , Metrolinx (down ~70%);

Travel cancellations: Airbnb, Booking.com, Expedia, hotel occupancy, etc;

Sales of standing desks: IKEA (lol).
A company that uses internet-connected thermometers to predict the spread of the flu says it is tracking the coronavirus in real time — something that had been impossible, given the lack of testing for the disease.
---
setting money on fire
*Usually I contrast a major firm's burn rate with the cost of a good policy idea, but this week I think it's worth considering the call(s) for the federal government to support Canada's tech sector (Ottawa eyes credit options to help hard-hit smaller businesses).
The CCI's proposal would have banks skip their normal loan-adjudication process to get cash out the door quickly to help their existing SMB clients keep paying their employees and bills until economic activity picks up again.

At the end of the period, the loan would either be converted into a conventional bank loan with normal repayment terms, or would be purchased by the government at book value. The government could then forgive some loans and treat them as grants for those recipients still in financial difficulty. The idea is modelled after "good-bank, bad-bank" bailout measures that helped resuscitate the economy in the wake of the 2008-09 financial crisis.
I suppose we can ask what duty government has, if any, to a sector that is inherently characterized by risk (i.e. should vulnerable startups simply fail faster now?). In terms of federal policy response(s), it's an interesting time to observe and consider whether Canada truly has an innovation economy that is in any way distinct from SMEs (i.e. what policy decisions would pertain to the innovation economy that wouldn't apply to a traditional small business?).
To that end, on Friday, Minister Bains announced Canada's Plan to Mobilize Industry to fight COVID-19. I love that it's a blatant bat signal for smart people to research and fight COVID-19.
---
legislative pages
This week's read is Joanne McNeil's "Lurking: How a Person Became a User." It's the first history of the social internet and perfect for anyone feeling some serious MySpace nostalgia right now. Sometimes at parties I like to ask people what their first "handle" was - mine was "vaseline55" and it's definitely not my online banking password. What was yours (handle, not password)?
It used to be that all a user had was their words. The most important word was your name. A username assumed the apprehension and ballast of a first impression; it was the skeleton that others on the internet had to start with to assemble a notion of your identity. This name was a term of endearment that you christened yourself. Selected well, a single word might conjure up your humor, interests, spirituality, originality, solitude, beauty, apathy, and dreams. Even someone easygoing and indifferent about it, selecting their given name as a username— LaylaRose, Julian78—communicated something on the information superhighway, amid fellow travelers, self-named in puns and references or the oblique, those who answered to Knocktillucent, EllenRipley85, or ViolaString.
In Lurking, McNeil digs deep and identifies the primary (if sometimes contradictory) concerns of people online: searching, safety, privacy, identity, community, anonymity, and visibility. She charts what it is that brought people online and what keeps us here even as the social equations of digital life—what we're made to trade, knowingly or otherwise, for the benefits of the internet—have shifted radically beneath us. It is a story we are accustomed to hearing as tales of entrepreneurs and visionaries and dynamic and powerful corporations, but there is a more profound, intimate story that hasn't yet been told.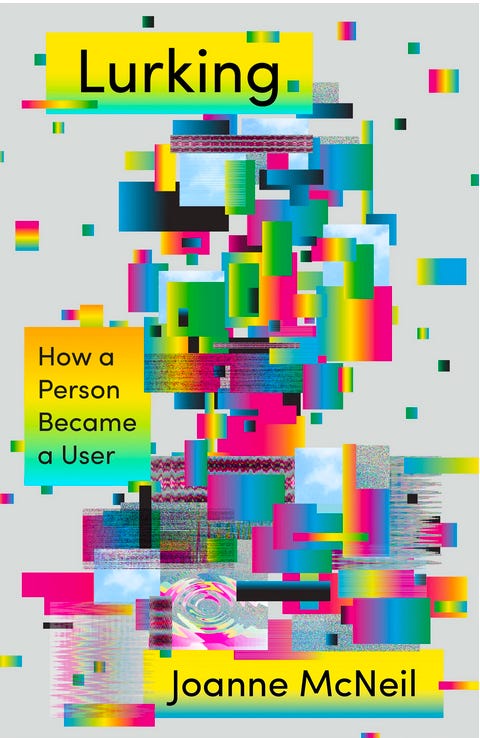 I guess we're all camgirls now.
Instagram, with its focus on individuals as individuals, encouraged users to maintain parasocial relationships— lurking, digital people-watching—while also keeping up with the lives of friends. It used to be that camgirls on the internet were approximating fame; then all celebrities became camgirls.
Given that the Coronavirus Crisis Is Showing Us How to Live Online, now is a very nice time to reflect on our personal level of lurk and how we feel when we quietly prowl the web. Who knows? Maybe you're prowling this newsletter right now and not even signed up. Know what? That's cool with me. I could see this book being re-released with chapters on Zoom and Netflix parties.
In this book, I use the word "lurking" only in a positive context. Lurking is listening and witnessing on the internet, rather than opining and capturing the attention of others.
[emphasis mine]
And she shares some thoughts on regulation + the internet in the conclusion.
Regulation is another incomplete solution. At best, policy for the internet could be like what seat belts or HOV lanes were for the highway and driving, or even the digital equivalent of pedestrian-only zones. But Facebook is not an automobile, it does not move individuals from one place to the next; instead, it entraps them inside its feedback loops and mazes. Facebook has entrapped two billion individuals—a user base so vast, it is virtually impossible for this platform to ever be effectively governed. The most urgently needed regulation—an outright ban on targeted advertising—could bring it to its knees, maybe. Mastodon (a Twitter and Facebook alternative) as well as PixelFed and PeerTube (decentralized attempts at Instagram or YouTube) are viable alternatives, which are free, open-source….
---
space policy:
Exploration. Imagination. Innovation.
[That is the subtitle of A New Space Strategy for Canada - 2019]
Now is the time we learn a little about space policy to prepare for the future. Also, this astronaut has tips for being isolated.
I didn't fully appreciate how important satellite data has been for climate change work. Did you? Well, we're going to have to if we want to become space policy pros (instead of concrete shipping bros).
Turns out that scientific data from Earth observation are essential for clean growth and monitoring the health of the planet.
Five Canadian satellites and instruments – SCISAT, MOPITT on Terra, OSIRIS on Odin, CloudSat and RADARSAT-2 – have been foundational to Canada's international contributions to the global effort to combat climate change by providing data to measure changes over land, over sea and land in the atmosphere.
Not only does space-based technology have the potential to cost-effectively address challenges that are specific to Canada's unique geography, population density and societal challenges, but it also has important spin-off benefits. From space-based radar to space robotics, scientists and engineers have found applications for space technologies on Earth, including pioneering new knowledge and treatments in health science and medicine. For example, the NeuroArm, an image-guided robotic system that assists neurosurgeons, is based on Canadarm2 technology that could only have been pioneered in the demanding environment of outer space.
What are the socioeconomic benefits of space, you say?
Canada's space sector contributes $2.3 billion to Canada's gross domestic product, directly employs almost 10,000 Canadians, and is one of the most research and development (R&D) intensive sectors in the Canadian economy. Small- and medium-sized businesses account for over 90 per cent of all Canadian space firms and nearly 30 per cent of employment.
Canada's Space Strategy:
Ensure Canada remains a leading spacefaring nation by joining the lunar gateway mission:

Build the next-generation AI-enabled deep-space robotic system;

Enable scientific opportunities and global partnerships;

Guarantee the future of our astronaut programs.

Inspire the next generation of Canadians to reach for the stars:

Launch a national contest to recruit Canada's "junior astronauts;"

Organize visits by astronauts and other inspiring speakers to schools across Canada. 

Harness space to solve everyday challenges for Canadians:

Connecting Canadians everywhere;

Enhancing security and sovereignty; 

Improving remote medicine and health care;

Enhancing access to nutritious food;

Supporting future secure communications. 

Position Canada's commercial space sector to help grow the economy and create the jobs of the future:

Create a modern regulatory framework; 

Cement and expand out international partnerships; 

Help our space firms start up and scale up; 

Partner with industry to make investments and create jobs here in Canada. 

Ensure Canada's leadership in acquiring and using space-based data to support science excellence, innovation, and economic growth:

Collecting climate change data; 

Prioritizing future Earth observation capabilities; 

Supporting excellence in data analytics; 

Supporting space science to study Earth and beyond.
---
tune: papooz - Good Times on Earth
Well today the rain stopped falling,
I do not feel the same since the day began
Appreciate all the finest colours
Yeah we spend...
Good times on earth!

Put on my best shirt for today
It's not a day to work, they used to say
I don't need too much, I only know such
Yeah we spend...
Good times on earth!

Girls have never been as pretty as the summer
It's wonderful when the sun shines more than ever
Life is getting better
For me and my brothers
Yeah we spend...
Good times on earth!
Times are ~not so~ good right now, but that doesn't mean we can't enjoy some warm-toned bossa nova while we tidy our apartments - put on your best shirt for today. I can't wait to patronize crowded areas again - soon (maybe).
Thank you for being a beta reader and helping me make this better! I know it is text heavy - what do you want more/less of?

---
Vass Bednar writes "regs to riches" and is a public policy entrepreneur. She can be reached at vasiliki.bednar@gmail.com or follow her on Twitter @VassB.