Discover more from regs to riches
Regulatory hacking in Canada by Vass Bednar w/ friends.
Over 2,000 subscribers
#4
is automated infectious disease surveillance common sense?
This is a newsletter about
regulatory hacking
featuring (mostly) Canadian startups.
Why? Early stage companies are super under-serviced by policymakers, and we typically talk about regulating tech when companies are
already
fairly sophisticated. That means a lot of firms are left out, and left behind.
The hard truth is that policy realities may inhibit companies from scaling (or even existing) in the first place. That's why
all start-ups need a regulatory strategy to succeed
.
Most of all, we need more startups to embed policy thinking into their product design processes, and more policymakers to take an entrepreneurial, experimental approach.

Spotlight: Nimbus Driving School  

Policy Leadership: BlueDot - Automated infectious disease surveillance      

Legislative Pages: Soap and Water & Common Sense   


Tune: Beck - Where It's At
spotlight - nimbus
Too often we imagine that public policy is a barrier to true innovation - a "blocker" cloaked in "red tape." And we frame the policy world as being in direct opposition to technology - policymakers are framed as out-of-touch party poopers who will be ready to regulate disruptive technologies - in a few years, after there are enough jurisdictional scans to Google.
This core relationship is the subject of much debate, articulated in better detail by economists and historians debating whether the US government or "the market" helped to build the internet. But let's not go down that rabbit hole right now.
Anyway, I personally (obviously??) don't subcribe to the trope that technology itself is necessarily in opposition to policy or resistant to regulation by default. And I think it's worth noticing when public policy change is what facilitates a new company. A small but relevant example of this is Nimbus driving school.
Nimbus is (or will be) Ontario's first online driving school with personalized learning and certified instructors
The company is made possible by recent regulatory changes by the Ministry of Transportation that allow students to take their G2 driver education online [Ok, I know some of you want to read the full legislation - O. Reg. 473/07: LICENCES FOR DRIVING INSTRUCTORS AND DRIVING SCHOOLS]
Do you remember sitting in-class with, like, the overhead projector to do your G1 work? Given the new emphasis on (and necessity of) online learning, being able to do your in-class driver's ed at your own pace on your own seems like a no-brainer. It also seems like it could really agitate in a space with long-established incumbents that have been fairly resistant to change.
I didn't have driving schools on my ripe-for-disruption BINGO card but now I do.
BlueDot is just doing what it's always been doing: protecting people around the world from infectious diseases with human and artificial intelligence. I think it's neat because a) it came out of nowhere, sort of; b) it's super important but these risks seem dormant the majority of the time; and c) AirCanada is a client - WHO KNEW?
[From BetaKit] The Government of Canada announced that is has signed a deal with BlueDot to use the company's disease analytics platform to track the spread of COVID-19.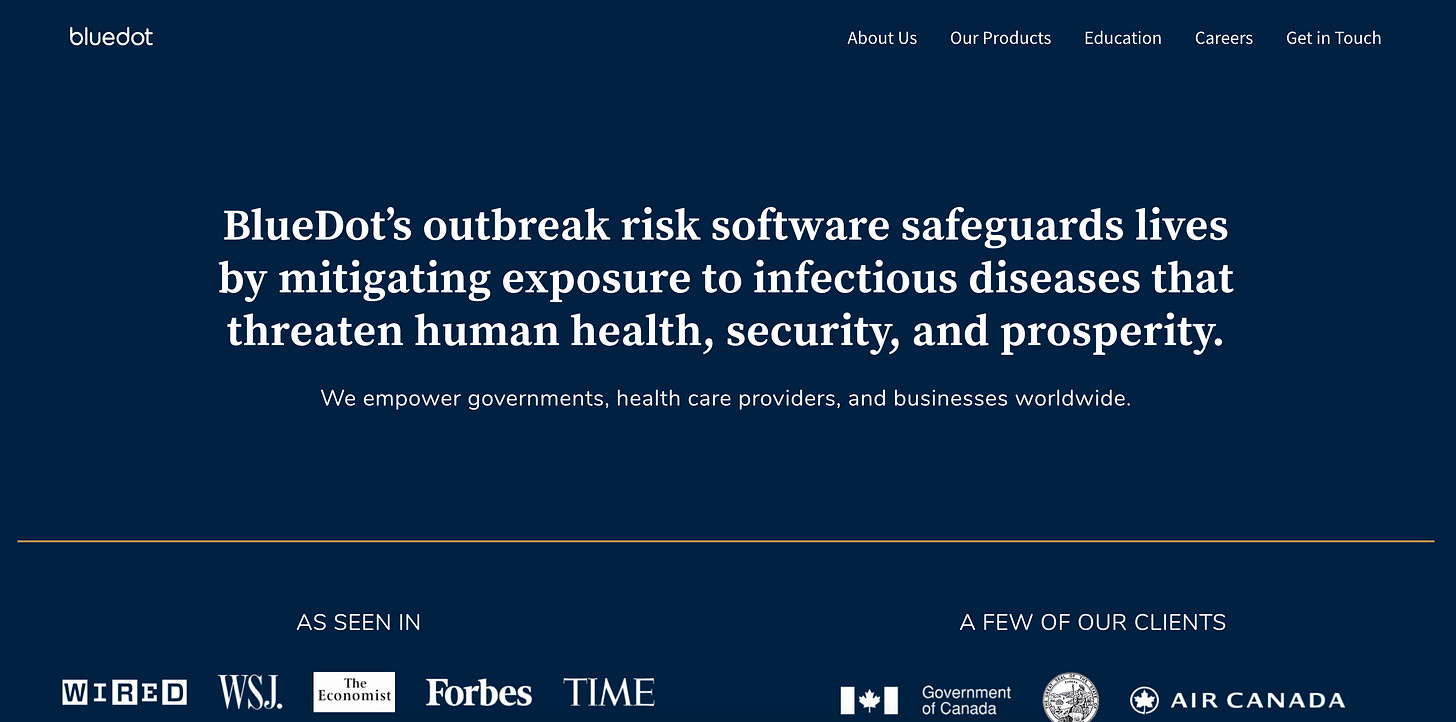 BlueDot has developed what is touted as a first-of-its-kind, early warning technology for infectious diseases. Its platform uses artificial and human intelligence to track the spread and impact of more than 150 infectious diseases globally.
BlueDot was one of the first companies in the world to identify the spread of COVID-19. The startup's tracking platform picked up a cluster of cases around Wuhan, China on December 30, nine days before the World Health Organization released its statement alerting people to the emergence of COVID-19.
The federal government will be using BlueDot's platform to help Canada track and monitor the virus and will also be using data collected by BlueDot to make future decisions related to COVID-19. This is an epic example of a private company collaborating with government in order to make better policy decisions.
What I haven't figured out about BlueDot is what the 100+ datasets it is using are. Given the very important conversations we've been having about surveillance and cell phone data usage as it relates to the pandemic, you have to wonder what data governance standard they adhere to.
The Globe & Mail had a quick read from the weekend: How big data, population health and other scientists are trying to map COVID-19 in the community. That's where I learned about Flatten, which is crowdsourcing COVID-19 symptoms in Toronto.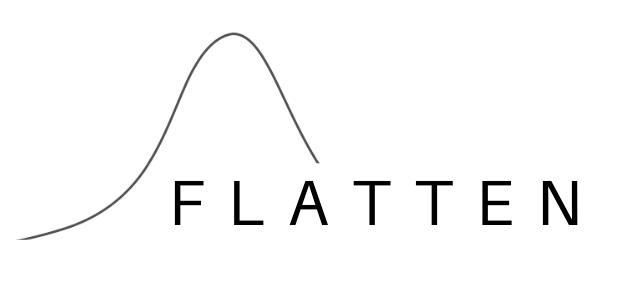 *FLATTEN is a new not-for-profit organization platform for collecting and providing real time information regarding the spread of COVID-19 in your local community and around the nation.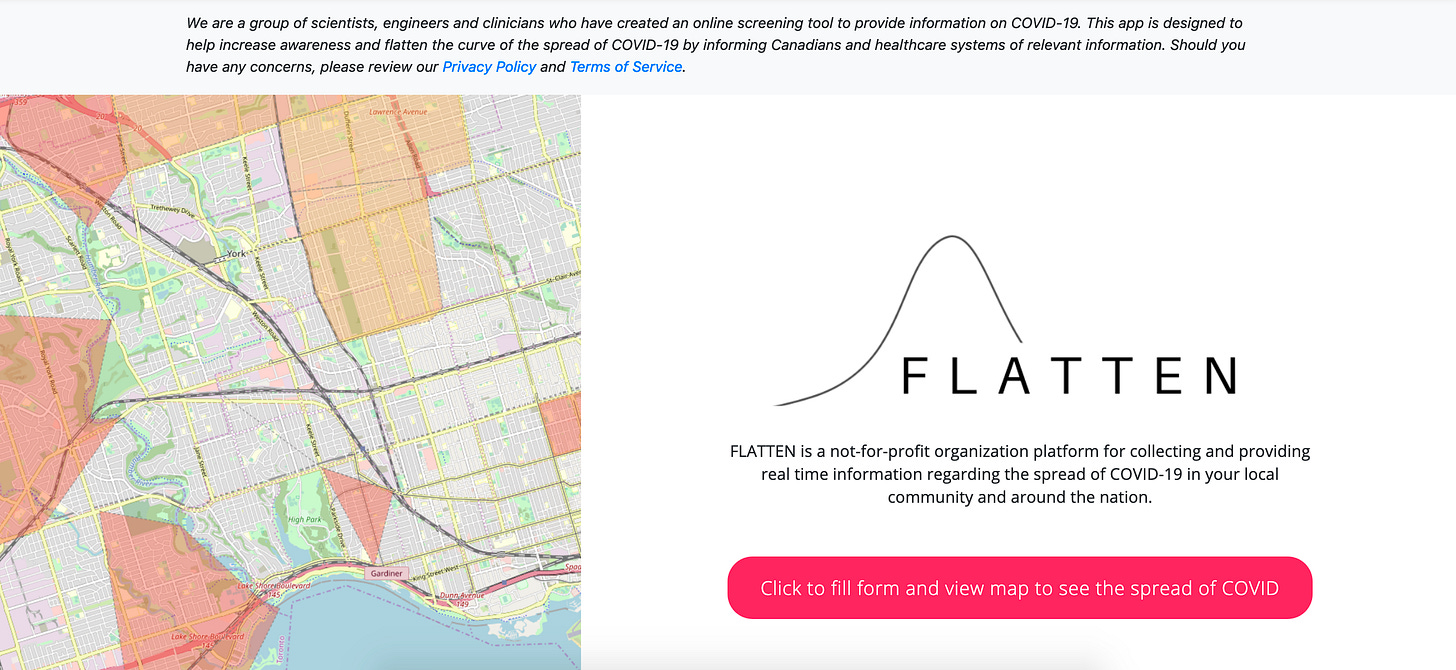 Casey Newton's newsletter The Interface gets into way more detail here.
legislative pages: wash your hands
Update: I am a public health expert now, just like everyone else on the internet.
My panic read was this recently re-issued book "Soap and Water & Common Sense," that claims to be the definitive guide to viruses, bacteria, parasites, and disease. So soothing.
The author, Bonnie Henry, is a bad ass. In 2003, she was the operational lead in the response to the SARS outbreak in Toronto and she is currently British Columbia's Provincial Health Officer.
There are some really neat little anecdotes in the book, like this one: dead flamingos in the Bronx Zoo were the first North American victims of West Nile Virus, and an emergency dog-sled relay across Alaska to bring antitoxin to fight a diphtheria outbreak in Nome gave birth to the annual Iditarod race.
While all of these measures seem like common sense, it's amazing how often basic hygiene and public health etiquette are overlooked or forgotten.
I'm betting that our new hand-washing vigilance will last, and look forward to policy reads about how well Canada managed COVID-19 (*because by then we will be through this).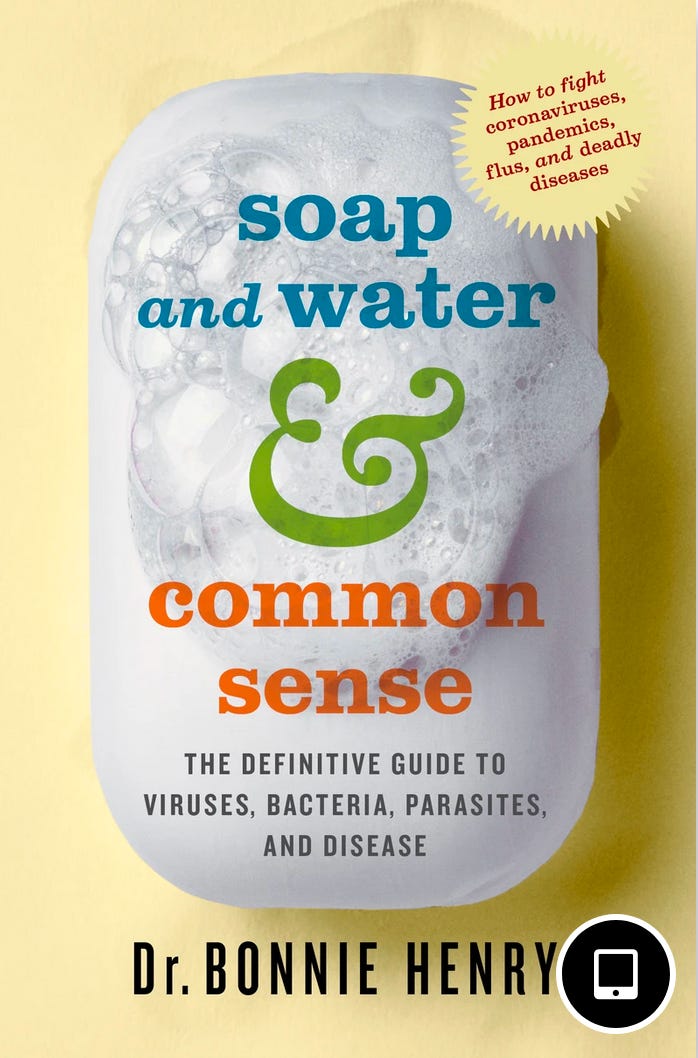 If you are craving more pandemic reading re: various policy responses, McGill's Max Bell School has a really neat newsletter: Policy for Pandemics.
And it's cool + cheeky that [female!] Public Health Officers are ruling the internet.
*I've ordered both the Dr. Eileen de Villa + Theresa Tam shirts from a limited edition collab. b/w SophieGrace and Madame Premier, along with artist Mandy Stobo, who are celebrating the public health heroines of the COVID-19 outbreak. No, I don't know how make images smaller on Substack, SORRY.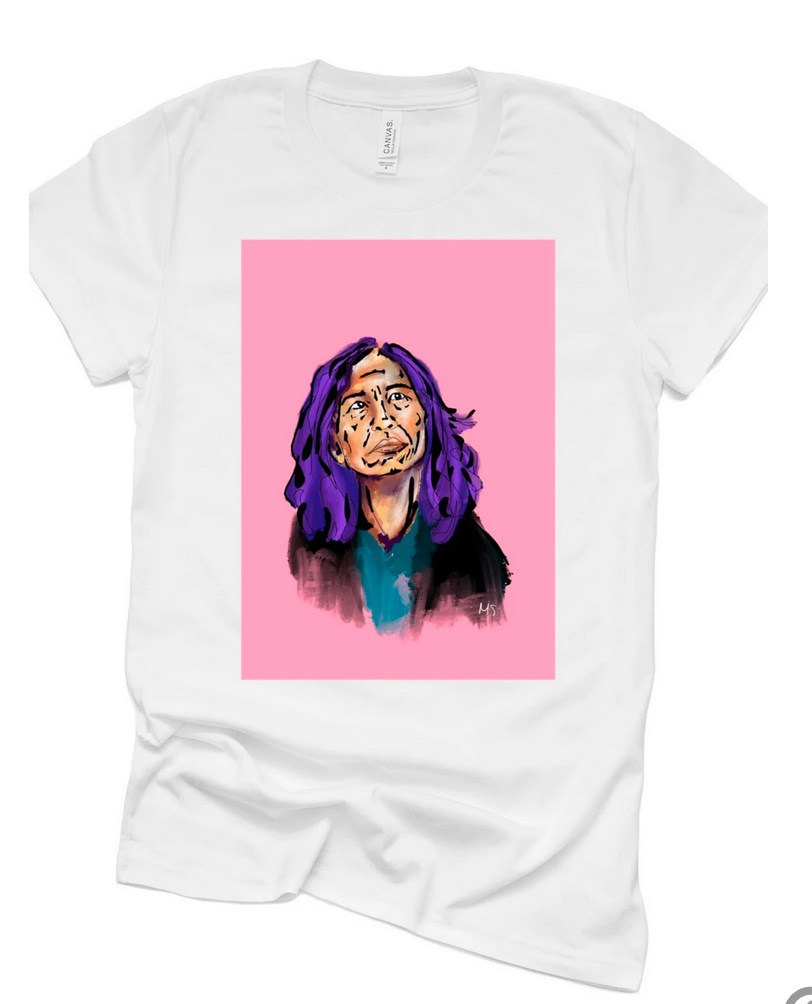 tune: beck - where it's at
Bottles and cans and just wash your hands and just wash your hands

---
Vass Bednar writes "regs to riches" and is a public policy entrepreneur. She can be reached at vasiliki.bednar@gmail.com or follow her on Twitter @VassB.
Archives available via regstoriches.substack.com