Discover more from regs to riches
Regulatory hacking in Canada by Vass Bednar w/ friends.
Over 2,000 subscribers
This is a newsletter about regulatory hacking featuring (mostly) Canadian startups.
Because all start-ups need a regulatory strategy to succeed
.
*Also, the newsletter has been quiet - so much going on in the world to process, push.
spotlight: certn 🔦 

leadership gap: Edmonton's Community Solutions Accelerator     

legislative pages: the revolution will not be funded    

space: the most promising space startups (AngelList) 

tune: momma "double dare"
🔦 spotlight:
certn
Do you ever find yourself "frustrated" by your background check provider?
Victoria, BC-based certn's promotional video advertises background checks as part of the applicant screening process, cautioning that, "a bad hire can cost as much as 3x their annual salary." The company "uses AI and the world's largest risk-relevant database to find everything from negative news and criminal records to social media profiles, driving records, and credit reports." It is also able to verify biometric ID.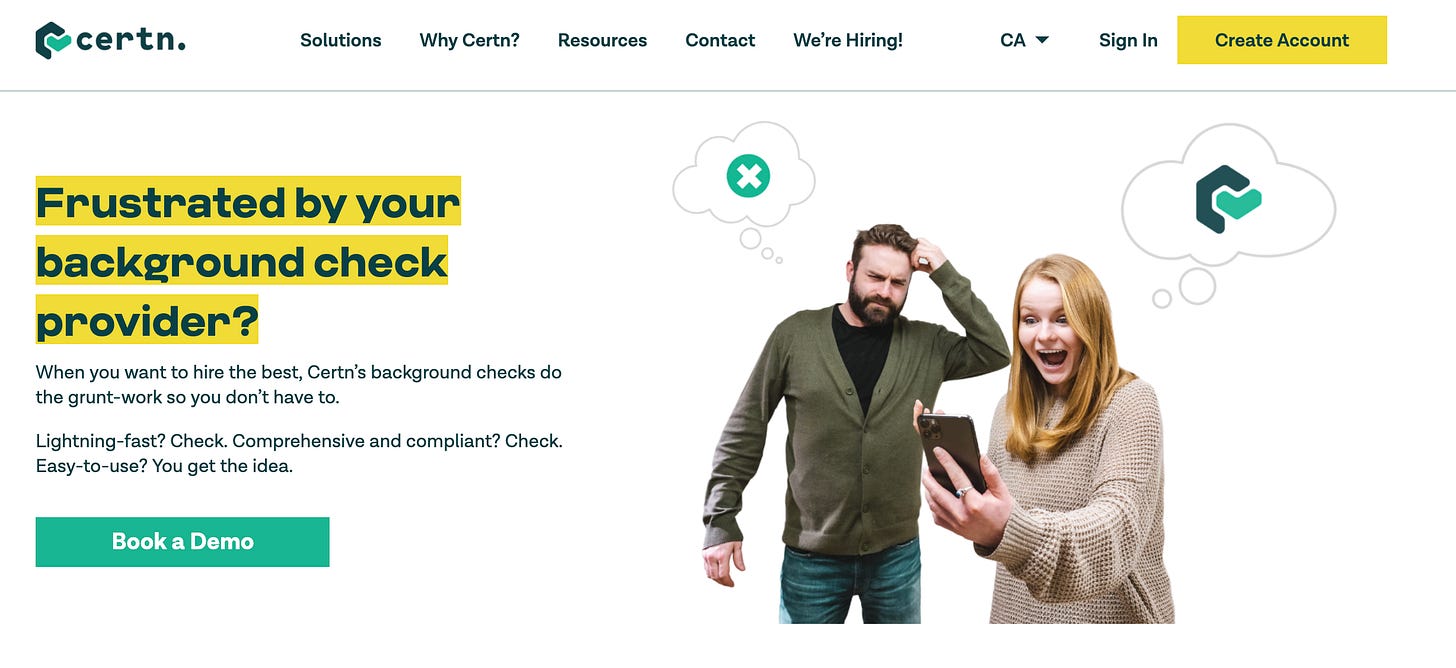 In Canada, criminal record and police information is held at the federal level by the Canadian Police Information Centre (CPIC), and all criminal law is enacted at the federal level but prosecuted at the provincial level. Certn claims that you can get a "Canada Standard," which is an RCMP and CPIC check, in "minutes" instead of days as they have partnered with the RCMP.
Background checks have become a standard part of most hiring processes. While screening for job-related convictions might be valuable, even having a criminal record isn't necessarily predictive of future behaviour. Certn's FAQs are a reminder that tenants may also be subject to background checks by landlords and property managers.
What else? The firm also offers a "softcheck," which is a "a real-time public information search that searches over 200,000 databases from over 240 countries looking for criminal records, court decisions, negative press, social profiles, public biographies, past employment and more." Even better (worse) they offer "ongoing risk monitoring on employees."
Can I use social media to make a decision on a hiring decision?
It is legal for employers to use something they found on social media to make a decision. Certn will highlight high-risk behaviour, however, if an employer wishes to use a specific post, tweet or pin, they must ensure that the content of the post could be deemed relevant to the applicants' job. For example, threatening or violent content on applicant's twitter profile could pose a risk to other employees and could violate other employees right to peaceful enjoyment of their workplace. This would be relevant. Applicants' taste in music, political views, family status, race or religion, are NOT relevant to the applicants' position.

Note: We are not lawyers and cannot give legal advice on this.
While there are certainly legitimate applications of background checks (for people working with children, etc), the expansion of information that people have access to is disconcerting. Perhaps the initial novelty of integrating these data sets will wear off and we can do more to limit their use.
SEE ALSO: How Automated Background Checks Freeze Out Renters
Over the course of my career, I have had more (inane?) background checks than degree verification or transcript requests.
You
?
---
👮‍♀️ edmonton
From VICE: A Crime-Fighting Police Tech "Accelerator" in Edmonton Has Activists Worried. A partnership between police, venture capitalists, and big business wants to solve crime and social problems with technology.
I haven't stopped worrying/wondering about this article since I came across it.
Ashif Mawji is a venture capitalist and chair of the Edmonton Police Foundation - unique combo. Here is an article from the Edmonton Journal about the "Community Solutions Accelerator:
McFee and Mawji say the accelerator will help businesses create products to be used by police and social services in the field, such as artificial intelligence software that could predict who will go missing, or an app that would let police do on-the-spot mental health evaluations. The CSA will then sell the products to other cities.

To help startups bring these and other ideas to life, the CSA will pool sensitive information about Albertans from health care, child welfare, social services, and policing databases and provide it to entrepreneurs to get creative with. Mawji has said that the most sensitive data will only be handled by police who will "anonymize" the data before giving it to businesses.
The absurd conflict of interest(s) here also made me consider how calls to de-fund the police might lead to the use of more technologies that lead to "efficiencies," and/or allow us to "police" with less officers.
What is the first challenge?
A first project launched through the CSA is the "Liquor Store Theft Challenge" funded by Alcanna, Alberta's largest liquor retailer. The challenge promises up to $250,000 to whoever can figure out how to stop liquor store robberies in Edmonton. One of Alcanna's goals through the challenge is to "support and encourage the justice system in imposing consequences for these criminals once caught."
This "problem" doesn't seem like a design failure to me. Anyways - I missed the announcement in February that the Edmonton Police created a Community Solutions Accelerator with aim to reduce crime. The accelerator is currently supported by the University of Alberta, ATB Financial and Motorola Solutions Canada.
All of these articles mentioned privacy and anonymization, but none of explored the equity implications of developing these technologies. There is so much literature about the perils of predictive policing; and Mozilla has a petition to Tell Amazon Ring to stop sharing information with police services. Accelerators are nice for de-risking entrepreneurship opportunities on campus, but they have no place monetizing police interventions.
---
💪the revolution will not be funded
Since the mid-1970s this country [the US] has seen the spectacular growth of what is increasingly coming to be called the Non-Profit Industrial Complex (NPIC)—a sprawling constellation of private foundations, service organizations, charities, and institutionalized movement groups operating under 501(c)(3), a somewhat arcane IRS provision that exempts recognized organizations from paying income tax.
After a friend mentioned this book in conversation 3x, I hustled to score my very own copy. The collection sets out to examine the ways in which the "NPIC" as a whole—from the influence of foundations over the political agendas of movement groups to the very legal structures that define nonprofit status—constrains and even undermines work for radical social change.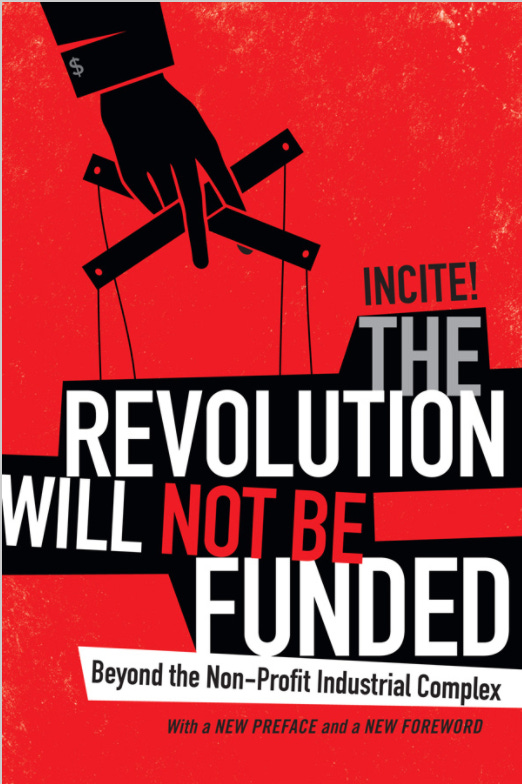 With sustained protest(s), many are considering what the next steps are that can continue to activate the collective appetite for change and challenge. Others may be more attune to learning more about how systemic change happens, and what lessons we can take from past social movements. The "revolution" is similarly unlikely to consist of game-changing mobile applications, you know?
+ I have been finding it a little harder to read lately, and essays are digestible.
And, to be honest, the next book I am going to read = a bigfoot horror novel.
---
Would you believe me if I told you there is a space technology venture firm? It's called Seraphim. This firm recently did a ~report~ (I use the term loosely) on the most promising "spacetech" start ups.
I so like the typology that the report offers:
Build - Companies building the satellites and drones themselves.

Launch - Companies building and launching rockets. This includes autonomous flight and drone delivery startups.

Data - Companies collecting data from space. For example, Spire Global uses nano-satellites to track maritime, aviation, and weather patterns.

Downlink - Technologies facilitating the transmission and storage of data from space back down to Earth.

Analyze - Companies working to convert that data into insights.

Product - Companies packaging data streams from space and terrestrial sources into APIs for use by other companies.

Beyond Earth – Companies building in-space infrastructure to connect satellites and spaceships to each other.
This is also a reminder that most of these companies - like so many we engage with on a day-to-day basis - are ultimately data plays.
PS. Space "ecosystem"? More like "exosphere," am I right, ladies?
---
🎪 tune:
momma
"double dare"
Mom jeans, Soccer Mommy and Momma. What to make of these playful nods at parenthood?
I'll be a star-studded champion
And I'll go far from the world we're in
So stay right there
I double dare, double dare
Stay right there
I double dare, double dare
---

---
Vass Bednar writes "regs to riches" and is a public policy solo-preneur. She recently started teaching a new MPP elective at the Munk School of Global Affairs and Public Policy on Topics in Public Policy and Technology. 👩‍🏫
She can be reached at vasiliki.bednar@gmail.com or follow her (er, me) on Twitter @VassB.
Archives available via regstoriches.substack.com,
---